India's number one off road racer C S Santosh targets top-20 finish in Dakar Rally
1.77K //
19 Feb 2015, 12:49 IST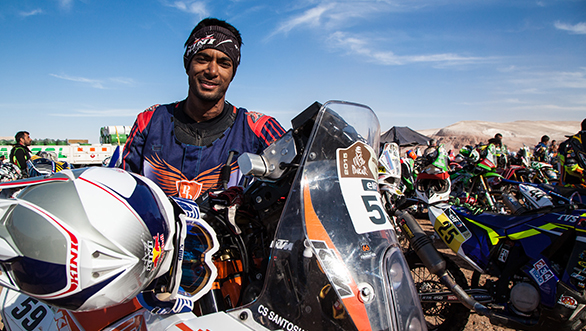 Bengaluru, Feb 18 (IANS) India's premier cross-country bike rider Santosh Shivashankar's new goal is a top-20 finish in the 2016 Dakar Rally after finishing overall 36th out of the 168 entries on debut in the tough race that covered over 9,000 km in 14 days last month.
Speaking to the media on the sidelines of a felicitation function organised by the Karnataka Motor Sports Club (KMSC) here Wednesday, 31-year-old Santosh said his target for the 2014 event was to finish the rally.
Bengaluru-based Santosh was the first Indian ever to compete in the Dakar and riding a KTM bike, he managed to finish the physically and mentally exhausting rally overcoming many odds, including a broken toe and injured shoulder after suffering several crashes.
"This year was an eye-opener for me. I always wanted to participate in the Dakar despite the huge odds and to finish the event, that too 36th, on my debut, was a huge bonus.
"I have learnt a lot from this year's experience. My target for the 2016 Rally would be to finish in the top 20 and then improve in the subsequent years," said Santosh, winner of two of India's top cross-country rallies, the Raid de Himalaya and Desert Storm.
Reflecting on his Dakar performance, Santosh, who last year had two top-10 finishes in the World championship rounds at Qatar and Dubai, said that he did not ride to his full potential as he just wanted to finish.
"Just before the Dakar Rally this year, Red Bull signed me in their elite athlete programme which puts a premium on performance. So, I did not take too many risks as my target was basically to finish.
"Also, I needed to be much fitter to be on pace with the front runners. I would say I rode to about 80 percent of my potential, said Santosh.
Legendary two-wheeler racer and former rally champion C.K. Chinnappa was the chief guest at the function that was also attended by Santosh's parents and Federation of Motor Sports Clubs of India president, Bharath Raj who is also the chairman of KMSC.