Motorsports: Ghosh and Ashwin top in Coffee Day Rally
680 //
24 Nov 2012, 23:20 IST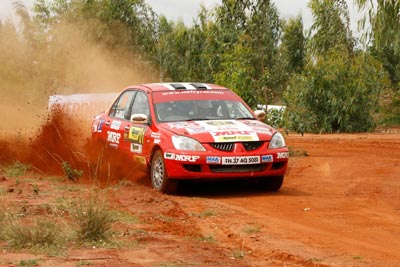 Chikmagalur - Amittrajit Ghosh (co?driver Ashwin Naik) won the Coffee Day Rally, the third round of the FMSCI?Indian National Rally Championship, but only after the original winner Karna Kadur (Somonita Ghosh) took a 40?second penalty to be placed second, here Saturday.
The unofficial results that had declared Kadur as the overall and 2000cc (Group N) class winner were subsequently altered upon audit and Ghosh emerged champion with a timing of one hour, 21 minutes, 59.5 seconds.
Kadur slipped to second spot with 1:22:08.3 while Bangalore's Vikram Devadasen (Somayya AG) finished a creditable third clocking 1:22:40.9 on a day that saw 14 retirements including Zuhin A (Musa Sherif), the only entrant in the premium Indian Rally Championship class for all?wheel drive cars following a turbo failure in his Subaru Impreza.
The Kolkata?based Ghosh, driving a Mistubishi Lancer Cedia, who started the day with a two?second advantage over Kadur in three of the six Special Stages run on Saturday, but an electrical problem on the last Stage of the day cost him time and he dropped to second place.
However, Kadur checked out of the service late after the last stage and was docked a 40?second road penalty that pushed him to second while elevating Ghosh to first spot.
While Kadur and Ghosh were involved in a tight battle, down the grid, K?1000 winner and favourite Lohitt Urs (Sujith Kumar) of Team Horizon R3A dropped out of contention with front suspension issues that cost him time in the first half of the day and though he pushed subsequently, he couldn't make up the deficit and finished fourth, a good 25.6 seconds behind Devadasen.
Meanwhile, Raghunandan B (Suraj K) took the honours in the INRC 1600cc class, finishing ahead of Byram Freddy Godrej (Prajval Pai) by over a minute while Karan AM (Shanmuga SN) topped the Junior INRC class that saw the retirement of K?1000 winner in this category Dean Mascarenhas (Shruptha Padiwal).
Through the day, cars kept dropping out like autumn leaves with Deepak Chetty (Uday Kumar) surviving a head?on crash into a tree following a puncture of the left front tyre on the apex of a right?hand corner.
A few other cars went off?road into ditches, but the crews walked out without a scratch thanks to the safety features of their vehicles.
Provisional classification:
INRC Overall / 2000cc Group N: Amittrajit Ghosh / Ashwin Naik 2 (1:21:59.5); Karna Kadur / Somonita Ghosh 1 (1hr, 22mins, 08.3secs); Vikram Devadasen / Somayya AG 3 (1:22:40.9).
INRC 1600cc: Raghunandan B / Suraj K 1 (1:27:45.5); Byram Freddy Godrej / Prajval Pai 2 (1:28:58.8); Suhem MK / Jagadevan Jeevarathinam 3 (1:29:08.8).
Junior INRC (timings to be released): Karan AM / Shanmuga SN 1; Asad Khan CA / Zayne Asrar 2; Samrat Yadav / Tushar Marwaha 3.