Motorsports: Abhishek Mishra, CS Santosh enjoy massive leads
1.85K //
02 Mar 2015, 10:48 IST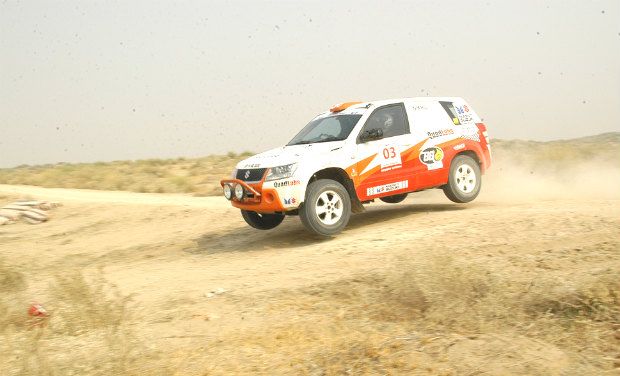 Bikaner, March 1 (IANS)
Delhi's Abhishek Mishra (co-driver PVS Murthy) and CS Santosh from Bengaluru, enjoying sizeable leads in Xtreme and Moto-Quad categories, respectively, are within striking distance of winning titles in the 13th Maruti Suzuki Desert Storm cross-country Rally on conclusion of Leg 4 here Saturday night. Mishra, driving a Maruti Grand Vitara, enjoyed a 27-minute lead over Harpreet Bawa (Ashwin Naik) of Team Speedsport while Santosh, riding a Suzuki RMX 450, held a near two-hour advantage over Jes David.
Likewise, Vishnu Singh (Adithya Anthony) and National champions Karthik Maruti (Sankar Anand) appeared poised to win the titles in the NDure and Xplore categories, respectively.
Provisional classification (After Leg 4):
XTreme: Abhishek Mishra/PVS Murthy (Team Speedsport, Grand Vitara) 1 (13hrs, 37mins, 27secs); Harpreet Bawa/Ashwin Naik (Team Speedsport, Grand Vitara) 2 (14:04:45); Niju Padia/Shekhar V (Mitsubishi Pajero) 3 (15:25:14).
Moto-Quad: CS Santosh (Team Maruti, Suzuki RMX 450) 1 (08:24:59) 1; Jes David (KTM Duke 390) 2 (10:02:47); Mohit Verma (KTM Duke 390) 3 (10:22:00).
NDure: Vishnu Singh/Adithya Anthony (Grand Vitara) 1 (00:25:21); Somdeb Chanda/Neerav Mehta (Maruti Gypsy) 2 (00:33:11); Shravik Shah/Amit Saha (Maruti Gypsy) 3 (0:33:47).
XPlore: Karthik Maruti/Sankar Anand (Maruti SX4) 1 (02:16:32); Subham Midha/Abhinav Kalra (Maruti SX4) 2 (02:30:59); Anubhab De/Chandan Sen (Maruti SX4) 3 (03:12:54).