Motorsports: Zuhin tops time charts
706 //
23 Nov 2012, 23:31 IST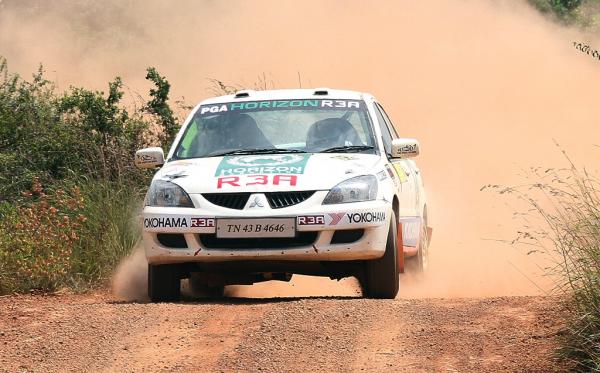 Chikmagalur - Zuhin A (co?driver Musa Sherif) of Team Kajah Motorsports, showcased the power of his Subaru Impreza four?wheel drive car to top the time sheets in the Spectator Special Stage on the opening day of the Coffee Day Rally, the third round of FMSCI Indian National Rally Championship, here on Friday.
It was a near flawless exhibition by Zuhin whose Subaru is serviced by the Malaysian MRU Motorsport, as he opened an eight second lead ahead of Saturday's six Special Stages.
Even granting the abundant advantages that Zuhin enjoyed in terms of a 300bhp turbo engine and an all?wheel drive that neutralized wheel?spin on the 2.5 km long dirt track, he drove with controlled exhibition to post a time of two minutes, 39 seconds, as against the 2:47.0 clocked by second placed Amittrajit Ghosh (Ashwin Naik) who was in a Group N?spec Mitsubishi Lancer Cedia.
With as many as 43 vehicles being run in reverse order, Zuhin, the only entry in the premium Indian Rally Championship class (4?wheel drive), was the last to start and by then, the track was chewed up considerably. He drove well within himself and gained time especially on the corners to come out on top.
While Ghosh headed the INRC 2,000 cc class, he was closely followed by Rahul Kanthraj (Vivek Bhatt) of Team Horizon R3A with a time of 2:48.7 just ahead of young Karna Kadur (Somonita Ghosh) who returned 2:49.2.
Kanthraj's team?mate and K?1,000 winner Lohitt Urs (Sujith Kumar) was a disappointing fourth in 2:49.4, but the Mysore ace will be in his elements on the morrow when the "real" Rally begins.
Sirish Chandran (Nikhil Pai) topped the 1600cc class in a Maruti Baleno, clocking 2:51.1 while in the Junior INRC, Karan A.M. (Shanmuga S.N.) pipped fancied Dean Mascarenhas (Shruptha Padiwal), the two clocking 2:56.1 and 2:56.2, respectively.
The track was flat and quite twisty and the absence of any jumps took away some thrill from the proceedings, though the top guns somewhat compensated by their power?packed runs.
Provisional results:
IRC Overall: Zuhin A/Musa Sherif (Kajah Motorsports, Subaru Impreza) 1 (2 mins, 39.4secs).
INRC 2,000cc (Group N): Amittrajit Ghosh / Ashwin Naik (Cedia) 1 (2:47.0); Rahul Kanthraj / Vivek Bhatt (Team Horizon R3A, Cedia) 2 (2:48.7); Karna Kadur / Somonita Ghosh 3 (2:49.2); Lohitt Urs / Sujith Kumar (Team Horizon R3A) 4 (2:49.4).
INRC 1600cc: Sirish Chandran / Nikhil Pai 1 (2:51.1); Byram Freddy Godrej / Prajval Pai 2 (2:55.6); Suhem MK / Jagdevan Jeevarathinam 3 (2:57.4).
Junior INRC: Karan AM / Shanmuga SN 1 (2:56.1); Dean Mascarenhas / Shurptha Padiwal 2 (2:56.2); Samrat Yadav / Tushar Marwaha 3 (2:58.2).
Gypsy (Non?Championship): Sanjay Agarwal / Shiva Prakash E 1 (2:57.9); Harsha S.D. / Rashid Kazi 2 (3:03.0); Shafeeq?ur Rehman/Dr S.Dinesh 3 (03:06.8).