New Yorker representative on the Andretti Autosport Team
855 //
30 Jul 2013, 21:49 IST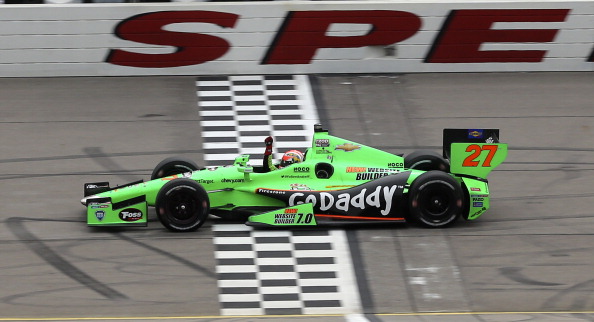 "Racing for Andretti Autosport is a dream come true," Luca Forgeois said after signing with Andretti Autosport Team on Friday as their third driver in the Cooper Tires USF2000 Championship.
The 18-year-old New York City native started competing in go-karts when he was 13, and has quickly progressed. In 2011, Forgeois competed in the USF2000 Championship where he won the National Class Championship with six wins and 10 podium finishes proving that he is a force to be reckoned with.
Although, Forgeois has proven himself, it wasn't all uphill for him.
He recalls a time that was particularly hard for him, "I grew up going to a very large public school with classes of 25-30. So having ADHD and already having the tendency to always [have] to move and always losing focus made it even more difficult to grab any knowledge or teachings by the teacher.
"As the years progressed the problem began to develop, as I wasn't learning anything in general and was struggling with the ability to sit still and focus," Forgeois said. "So the main problem remained while the educational system just left me essentially and I learned nothing for three years which was even more detrimental to my self-confidence and overall quantity of knowledge at my disposal."
However, Forgeois isn't going to let this challenge get in the way of his dreams.
He realizes his tendency to get easily distracted, and may over think, because of this he'll keep his "mind off of the coming event and just keep motivated and positive."
Andretti Autosport Vice President of Racing Operations, Kyle Moyer, seems to have the utmost confidence in Forgeois, he says, "Luca tested for us at the Chris Griffis Memorial Mazda Road to Indy test back in October (2012), and we saw he was a great fit for the team. We're really looking forward to having him join us at Mid-Ohio and excited to further explore his potential."
Racing under the Andretti name is an incredible opportunity and Forgeois will really be able to showcase his potential.
He will begin his journey with the Andretti Autosport team on Saturday, August 3rd at the Mid-Ohio Sports Car Course. He is the first to race in this triple-header series and will be joined by teammates Garett Grist and Austin Cindric.
"You have to remember to remain yourself as being part of such a successful operation can not only boost your ego, but also apply a ton of pressure," Forgeois says.
Forgeois will definitely make us New Yorkers proud in the Cooper Tires USF2000 Championship. An update will post following the race.
In the meantime, follow @LucaForgeois for updates from Forgeois himself.
"The mindset is be resilient, don't get caught in your own thoughts, look forward, shut up, and work harder," Forgeois says.