Ten EMR drivers for Colombo races
667 //
14 Dec 2012, 21:49 IST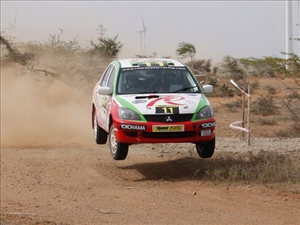 Colombo - The Toyota Etios Motor Racing (India) will be fielding a 10-car grid in the Colombo Night Races (CNR) that will be run on the streets here this weekend. The event will also see GT3, GT4, SL-GT, Formula Mclaren's 1300, and other international racing cars and bikes in action.
Eight Indian drivers selected on the basis of their performance at the second EMR Exhibition Race held at Gurgaon, along with two Sri Lankans will complete the grid.
The Indian drivers are: Amey S. Rane, Mezaan Anees, Yayathi Varma, Binoy John Maddela, Keith D'Souza, Hisham KP, Akhil Rabindra and Abhinay Bikkani.
Sandeep Singh, deputy managing director, marketing, Toyota Kirloskar Motor, said: "EMR's participation in Colombo Night Race will take Toyota's racing to the next level as it will help us train our drivers and give them international exposure.
"We are very happy to introduce our young EMR drivers to a new format and take them overseas for the first time. Last year, the Colombo Night Races were a success and we look forward to being a part the event this year."
The EMR drivers will have two rounds of races. The qualifying rounds will take place Friday and the races will start at 7 pm Saturday.