Top entries for JK Tyre Hornbill Rally
851 //
05 Dec 2012, 00:29 IST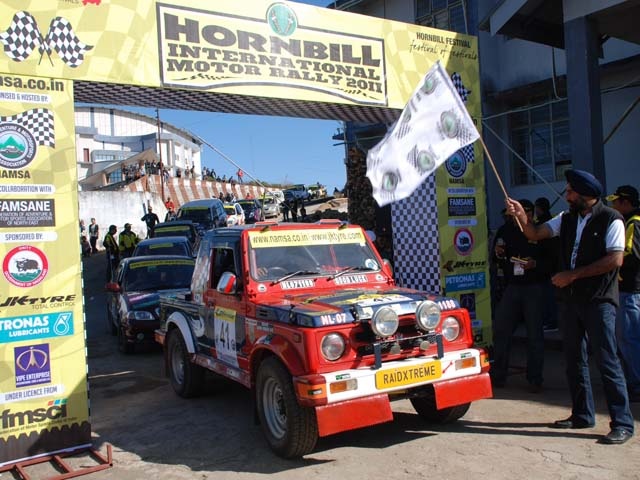 Kohima - The two-day JK Tyre Hornbill Rally, boasting of a pan-National entry list and which doubles up as the fourth round of the FMSCI Indian National TSD Rally Championship, will commence on Wednesday with a ceremonial flag-off at the Indira Gandhi Stadium here.
The entry list is headlined by a six-car Tata Motors Full Throttle team that is also currently leading the Constructors' Championship in the TSD INRC event that is being organised by the Nagaland Adventure and Motor Sports Association (NAMSA) in association with Berunda Adventure Sports Club, Mysore with support from the Government of Nagaland.
The Tata Full Throttle team has garnered 111 points after three rounds that were held in Bangalore, Ranchi and Jaipur, while Volkswagen (52) and Mahindra (25) are placed second and third in the race for constructors' title.
Apart from the 20-plus entrants in the TSD INRC, more than 50 participants, in both four and two-wheeler categories, will be competing for the local championship that will be run concurrently.
The Rally will cover a distance of 140 kms through parts of National highway 29, Touphema tourist village and culminate at the Naga Heritage Village, Kisama.
The TSD INRC should again witness a close battle considering that the previous three rounds have thrown up different overall winners.
Karthick Maruti and his navigator Sankar Anand, with a win in the third round at Jaipur and two second place finishes, head the championship standings in the Overall and Pro-Expert categories with 65 points.
They are followed by two Full Throttle crews of Sachin Singh and Chandrasekar M in a Tata Grande with 43 points, and the husband-wife combination of Satish Gopalkrishnan and Savera D'Souza driving a Tata Vista with 35.
Sachin Singh and Anand won the second round in Ranchi while Satish Gopalkrishnan and Savera D'Souza took the top honours in the first round at Bangalore.
In the Pro-Stock class, Full Throttle's experienced pair of Chidananda Murthy and BS Sujith Kumar, also in a Tata Vista, head the leaderboard with two wins and 65 points, and they will be looking to consolidate their position at the top.
While GS Joshy and Chandramouli (Tata Vista) and Kuriakose Elias Paarel and Srikanth GM (Vista) are the other two Full Throttle crews, local hero Along Aiyer with V Sekar as his navigator will complete the Tata team driving a Sumo Gold.