When the NASCAR All-Star Race starts on Sunday night, it will be after a very long time that the Cup Series cars from NASCAR's top division are racing at North Wilkesboro Speedway for money and awards.
The winner of the most recent Cup Series contest held at North Wilkesboro Speedway, way back in the 1990s, was Jeff Gordon.
On September 29, 1996, Gordon had the dominant car at the .625-mile track. He drove 207 laps to win the final points-paying race at the North Carolina track. It was also Gordon's first of three straight seasons with at least 10 victories.
That was his 10th and last victory of the year. He and his colleague Terry Labonte engaged in a close championship contest; Labonte finally prevailed by 37 points.
While Jeff Gordon was able to win the last race at the time at North Wilkesboro, he had a difficult start at this specific circuit during his debut season in 1993. Two early accidents forced him out of both his first races at the venue.
The famous No. 24 Chevrolet driver eventually became comfortable moving about the area. Gordon achieved one victory, two runner-up results, and no finishes outside of the top three in the final four races he competed in at North Wilkesboro.
The four-time series champion and NASCAR Hall of Famer pondered back on his time spent racing at this particular track ahead of this weekend's NASCAR All-Star Race. It will be North Wilkesboro's first Cup Series event in 27 years. He also compared it somewhat to Darlington, the final location of the series.
"This is like a short-track version of Darlington minus the banking. The way you drive the ends of the track are completely different. It has similarities to that as well as similarities to the abrasiveness of the surface where the tires go away pretty fast. New tires are going to be huge," Jeff Gordon said to HendricksSports.
Watch the All-Star Open at 5:30 PM ET on Sunday, May 21, to kick off the all-star extravaganza. At 8 PM ET, the All-Star Race will take place as the main event. Both events will be covered on FS1, MRN Radio, and SiriusXM NASCAR Radio.
---
NASCAR Cup Series at North Wilkesboro weekend schedule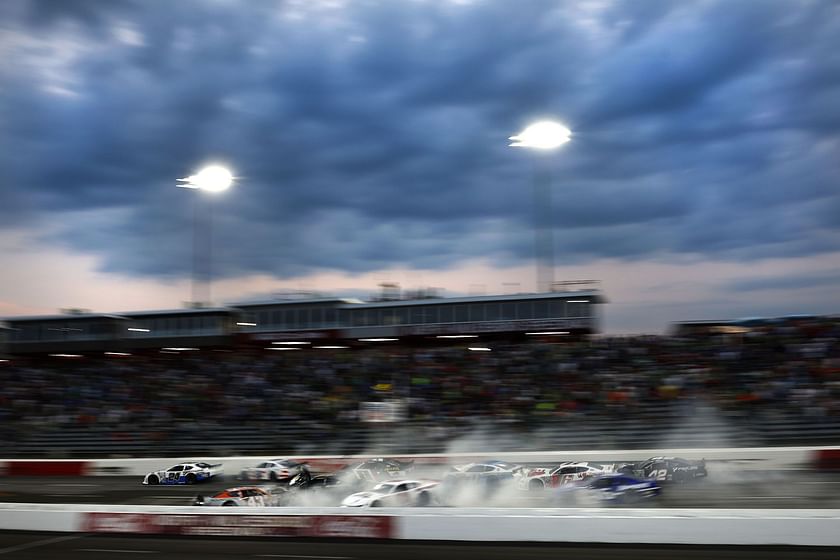 For the first time since 1996, the NASCAR Cup Series is returning to North Wilkesboro Speedway.
The Craftsman Truck Series race on Saturday and the All-Star Race and All-Star Open on Sunday are part of the weekend's events. For those who have fond memories of the old short track in the North Carolina countryside, it will be a potent dose of nostalgia.
While keeping some of the speedway's most distinctive features alone or just slightly renovated, SMI gave the circuit an almost total facelift.
Friday, May 19
— 4 p.m. ET: Practice
— 5:30 p.m. ET: All-Star Pit Crew Challenge
Saturday, May 20
— 7:20 p.m. ET: Heat race No. 1
— 8:15 p.m. ET: Heat race No. 2
Sunday, May 21
— 5:30 p.m. ET: All-Star Open
— 8 p.m. ET: All-Star Race
Edited by Akshay Saraswat