Exciting news for Robert Pattinson and Suki Waterhouse! The couple are expecting their first child after being in a relationship since 2018. The joyous announcement came from Suki herself during her performance at the Corona Capital Festival in Mexico this November.
Although Pattinson and Waterhouse prefer to keep their relationship low-key, Suki shared some sweet insights during an interview with The Sunday Times in February 2023.
All you need to know about Robert Pattinson and Suki Waterhouse's relationship in news!
Robert Pattinson and Suki Waterhouse began their relationship in 2018 as per the sources, but they've kept details about their romance pretty private, only discussing it a few times.
Though, recently, the "To Love" singer Suki happily shared her amazement and joy about being in a relationship for nearly five years, highlighting the couple's dedication even with their hectic schedules.
She fondly disclosed that they always make sure to spend their time together and make it a requisite not to exceed more than two months apart, depicting the strong connection they've nurtured over time.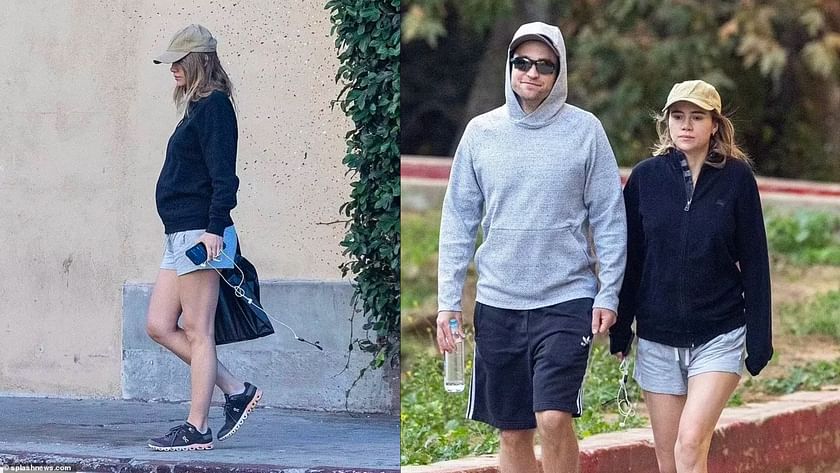 Witnessing this low-key love story evolves into a budding family is truly heartening.
July 2018: Robert Pattinson and Suki Waterhouse ignite relationship speculation
Back in July 2018, the rumor mill went into overdrive as Robert Pattinson and Suki Waterhouse were caught sharing some public displays of affection in London. E! News snagged some photos capturing their sweet moment, sparking rumors about their relationship.
Shortly afterward, a source confirmed to PEOPLE that the two had officially become a couple. Love was definitely in the air for Pattinson and Waterhouse!
January 11, 2019: Suki Waterhouse marks birthday with Robert Pattinson celebration
Robert Pattinson and Suki Waterhouse were cheek to cheek as she marked her 27th birthday at Casa Cruz in London. Reports suggest they were joined by Liv Tyler, Cara Delevingne, and Ashley Benson for the festive celebration.
Not long after the birthday bash, the couple was spotted strolling through London hand in hand. This came shortly after they had gone on a run together, showcasing their shared active and affectionate moments.
April 28, 2019: Robert Pattinson Breaks Silence, opens up about Suki Waterhouse publicly
In a chat with The Sunday Times, Robert Pattinson gave a glimpse into his love life, touching upon his past relationships with Kristen Stewart and FKA Twigs.
While he had positive things to say about his exes, the actor was a bit more reserved and hesitant when it came to discussing his current romance with Suki Waterhouse. When asked about her, he responded with a hesitant, "Do I have to?"
Pattinson later shared his perspective on keeping his personal life private, saying, "If you let people in, it devalues what love is." He added that being questioned about one's relationship by strangers feels rude, emphasizing the importance of setting boundaries.
According to him, maintaining a separation between public and private life is crucial to staying sane in the face of constant public attention.
He reflected on the challenges of public relationships, pointing out the oddity of something as simple as holding hands becoming a public spectacle. For him, the blurred line between performing for the public and living a private life can be overwhelming and has the potential to drive someone to madness.
May 13, 2019: Suki Waterhouse joins in birthday celebrations for Robert Pattinson
On his 33rd birthday, Pattinson marked the occasion with a dinner at the Chateau Marmont in L.A., accompanied by Waterhouse.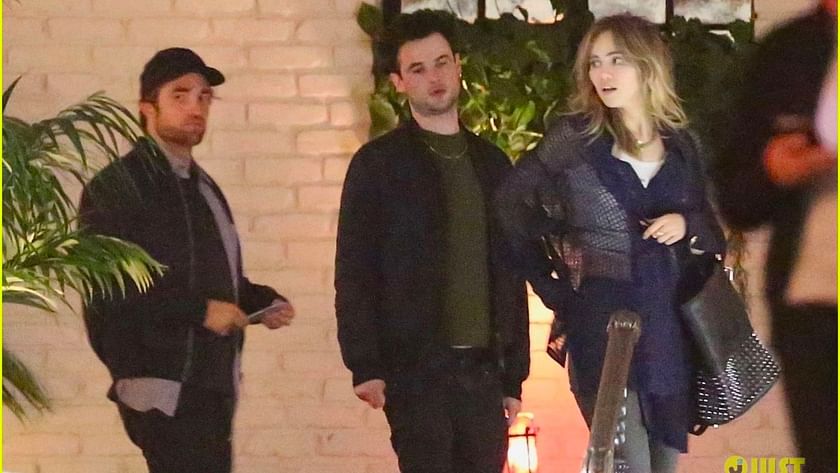 They were spotted enjoying the evening outside the restaurant, joined by actor Tom Sturridge, before hopping into their car and driving off.
May 31, 2019: Double Date Alert – Robert Pattinson and Suki Waterhouse spotted out with Taylor Swift and Joe Alwyn
Back in June 2019, Us Weekly shared news of a double date involving the couple, Robert Pattinson and Suki Waterhouse, alongside the superstar pair Taylor Swift and Joe Alwyn. According to an observer, the four enjoyed a meal at San Vicente Bungalows in Hollywood, where they were spotted "laughing and talking."
January 17, 2020: Engagement Buzz surrounds Robert Pattinson and Suki Waterhouse
In early 2019, speculation about Robert Pattinson and Suki Waterhouse getting engaged started swirling. This buzz kicked off when the model was seen wearing a ring on her wedding finger at a Dior dinner party in Paris with the actor. Despite the rumors, the couple never officially confirmed anything themselves.
May 2020: Robert Pattinson and Suki Waterhouse Cozy Up in London while filming The Batman
When production for The Batman was put on hold due to the COVID-19 pandemic in March 2020, Robert Pattinson and Suki Waterhouse decided to spend their time together in London. This was revealed in a June/July 2020 cover story by GQ.
In his GQ cover interview in March 2022, Robert Pattinson shared a funny anecdote about how Suki Waterhouse playfully teased him during a visit from a repairman who happened to be a big fan of DC Comics, the company behind Batman.
"He randomly started talking about how big of a DC fan he is. I'm sitting there, facing the other way, and my girlfriend just keeps chatting with him," Pattinson recalled.
"And I'm looking at her like, 'Shut the heck up!' I was thinking, 'Why are you doing this to me?' She was very entertaining, just having a conversation with this superfan," he added.."
September 16, 2022: Robert Pattinson and Suki Waterhouse were spotted engaging in PDA in London
Amid the temporary halt of The Batman production on September 3 due to a COVID-19-positive case, Pattinson and Waterhouse were seen displaying public affection in London on September 16. Vanity Fair later disclosed that it was Pattinson who tested positive. Fortunately, filming resumed on September 17 after he was cleared to return to the set, as reported by Variety.
April 15, 2021: Suki Waterhouse shares a snap with Robert Pattinson in the background
Suki Waterhouse made a sort of Instagram announcement about her relationship with Pattinson by sharing a sweet photo from her apartment in April 2021. Keen-eyed fans noticed a framed picture in the background, capturing a moment where Waterhouse is seen kissing Pattinson on the cheek sharing some of the chirpy moments of the couple.
July 29, 2021: Suki Waterhouse takes issue with Gossip Girl Reboot's Joke about her relationship with Robert Pattinson
In July 2021, Suki Waterhouse took issue with the Gossip Girl reboot on HBO Max, criticizing the show for making a joke about their relationship.
In episode 3, Luna (Zión Moreno), a character in the series, tries to change the public image of Zoya (Whitney Peak) after she starts dating her long-lost sister's ex-boyfriend, Obie (Eli Brown). Luna tells Zoya, "When are you going to get it? As far as the press is concerned, he's R-Patz and you're Suki Nobody."
Expressing her frustration, Waterhouse tweeted (since deleted), "Another day to be reminded that women can also be the patriarchy," and tagged the show and writer Lila Feinberg. She added, "Seeing critiques of patriarchy and sexism, then I get name-checked as somebody's 'nobody' girlfriend. Make it make sense!"
February 17, 2022: Robert Pattinson shares how his role in 'The Batman' moved Suki Waterhouse to tears
During his appearance on Jimmy Kimmel Live, Pattinson shared a heartwarming moment about watching The Batman with Suki for the first time. He mentioned that her reaction "kind of changed the entire thing."
Pattinson explained to the host, "I'm pretty sure she's not normally into watching superhero movies." He expressed how seeing her completely engrossed in the film, holding his hand, and wiping away a tear surprised him, saying, "And I was like, 'No way!'" It seems his performance in The Batman struck a chord with Waterhouse in a way that touched Pattinson deeply.
December 3, 2022: Robert Pattinson and Suki Waterhouse make red carpet debut at the Dior Fashion Show in Egypt, followed by May 1, 2023: Glamorous appearance at the Met Gala
"In a stunning moment, the couple graced the red carpet together for the first time in their four-year relationship at the Dior Men Fall 2023 show in Giza, Egypt.
Suki Waterhouse wowed in a flowing mauve dress, while Robert Pattinson looked sharp in a silver suit paired with a turtleneck.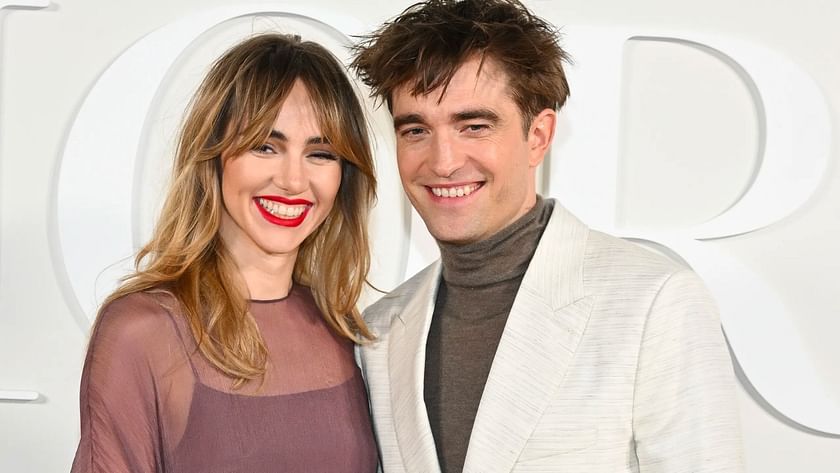 Sharing the magical experience on Instagram, Waterhouse wrote, 'Will never forget this show, under the stars and in front of the Pyramids of Giza, one of the Seven Wonders of the World.'"
Robert Pattinson and Suki Waterhouse donned Fendi and Dior outfits and made an appearance as a couple at the Met Gala.
Suki, known for her role in "Daisy Jones & The Six," stunned in a sheer floral dress. Meanwhile, Robert, famed for his Twilight days, looked dashing in a custom blue suit that included a sweeping pleated skirt.
"November 19, 2023: Suki Waterhouse Delights Fans at Corona Capital Festival with Pregnancy Announcement"
During her appearance at the Corona Capital Festival in Mexico City, Suki Waterhouse surprised the audience with some joyous news—she and Robert Pattinson are expecting their first child.
In a heartwarming moment on stage, she playfully remarked, "I'm extra sparkly today because I thought it might distract you from something else that's going on," pointing to her growing baby bump.
She added, "I'm not sure if it's working." Warm wishes and congratulations flooded in as the couple welcomed this thrilling new chapter in their lives. Here, the fans of the star couple are now excited for the brightest news for the couple and hoping the best for them!
Edited by Abigail Kevichusa