While one of the greatest abilities of any film is to surprise, sometimes, it can take the surprise element too far, like Spider-Man: Across the Spider-Verse. Being the long-awaited sequel of a brilliant animated film, the burden of high expectations had always been present on Miles Morales' shoulders. However, it now seems that the film has achieved more than what had been anticipated, surprising even loyal fans on its way to success.
Having received a flood of rave reviews after its release, it's no shock that Spider-Man: Across the Spider-Verse is being hailed as the best Spider-Man film of all times, if not the greatest superhero film ever. However, a recent revelation has left fans all the more stunned. It was revealed earlier today, on June 5, that Spider-Man: Across the Spider-Verse is now the highest-rated film of all time on Letterboxd.
As most cinema fans know, the Matthew Buchanan and Karl von Randow site has for long served as one of the most reliable sources of film ratings, reviews, and discovery. Unlike other sites like IMDb, which has seen fans tamper with ratings due to other reasons, Letterboxd has continued to remain relevant in the bigger circuits.

Following this shocking revelation, even Spider-Man fans seemed to be in disbelief as they expressed their opinion on social media sites like Twitter.
---
Twitter divided over Spider-Man: Across the Spider-Verse rating on Letterboxd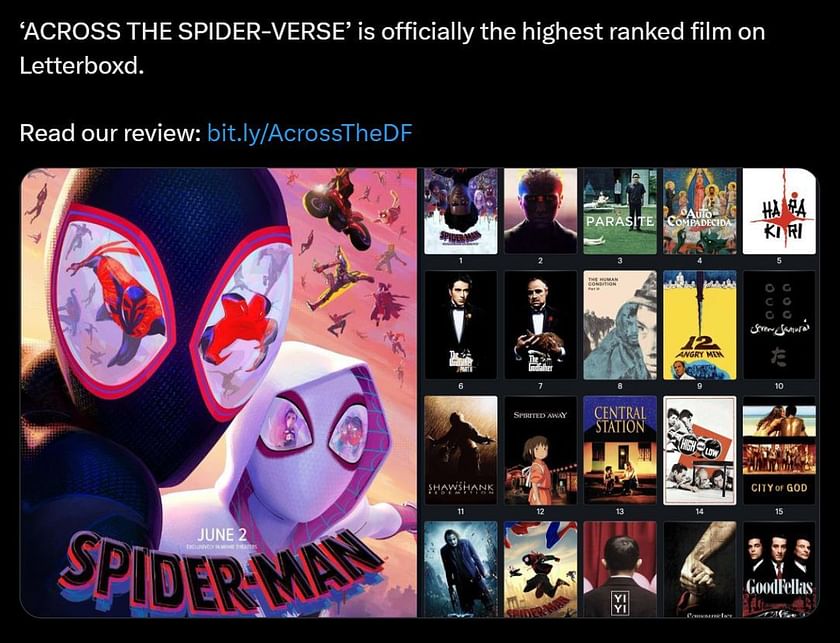 It is hard to convince hardcore cinema fans that a superhero movie, especially from Marvel, can take over the many pioneering films in the history of mankind. For many, it is indeed shocking to see an animated Marvel film beat the likes of era-defining pieces from different decades like Taxi Driver, The Godfather, Stalker, Persona, and Breathless.
Naturally, this has set forth a big debate among fans on Twitter, as they argued about Spider-Man: Across the Spider-Verse's inclusion in one of the most prestigious lists.




Meanwhile, there was also a fair share of fans who celebrated this big win.


It seems that Across the Spider-Verse does have great momentum behind it as it has impressed both critics and fans alike. The film was released on May 30, 2023, and has already performed exceptionally well at the box office.
With the positive reviews and constant coverage, fans anticipate Spider-Man: Across the Spider-Verse to reach new heights of success in the coming days.