A married Tennessee cop, Maegan Hall, was recently fired from her position for being involved in an affair with six of her fellow officers at the La Vergne Police Department.
Sergeant Lewis Powell, Sergeant Ty McGowan, Officer Juan Lugo, and Detective Seneca Shields are the other officers who were booted from their jobs alongside Hall.
Meanwhile, Officers Patrick Magliocco, Larry Holladay, and Gavin Schoeberl were suspended from their roles for their involvement in the scandal.
Investigation into the alleged affairs began on December 12 after La Vergne Mayor Jason Cole received information from a whistleblower and asked the city's Human Resources Director, Andrew Patton, to look into the situation.
The investigation found that the officers on the second shift engaged in undisclosed physical relationships on and off the clock, had private encounters inside the station while on duty, and exchanged inappropriate photos and videos with each other.
The report mentioned that some encounters occurred at football watch parties hosted by officers, where they discussed involving their wives alongside Maegan Hall in private activities.
Other private encounters allegedly took place at a shift party during an NFL game and at a hotel following an outing at the Go Kart USA center. Officer Maegan Hall was accused of strip*ing during one such escapade at a "hot tub party" on Sergeant Eric Staats' houseboat.
While Staats was not directly involved in the scandal, Hall was accused of having another alleged private encounter with a cop in the washroom of the former's boat.
Mayor Cole said that the situation was "unacceptable" and mentioned that he ordered the involved officers to be disciplined after the investigation came to a close on December 28:
"As soon as it was brought to our attention it was immediately investigated and action was taken upon the individuals involved."
LVPD Police Chief Burrel "Chip" Davis told CBS that the situation was "difficult," but he wants to assure people that a few officers do not represent the entire department:
"This is a difficult situation for our department and for the city, but I want to be clear that the actions of a few do not represent this department as a whole."
La Vergne Alderman Kara Hobbs told WTVF that she was "shocked and overall disappointed" by the situation. She added that authorities would have to work on rebuilding the trust of the community:
"There's definitely going to be a time period where we are really going to have to emphasize rebuilding the trust of our community."
Meanwhile, the Rutherford County District Attorney confirmed that there was "no evidence" of any criminal activity in the situation.
---
Maegan Hall is married to her college sweetheart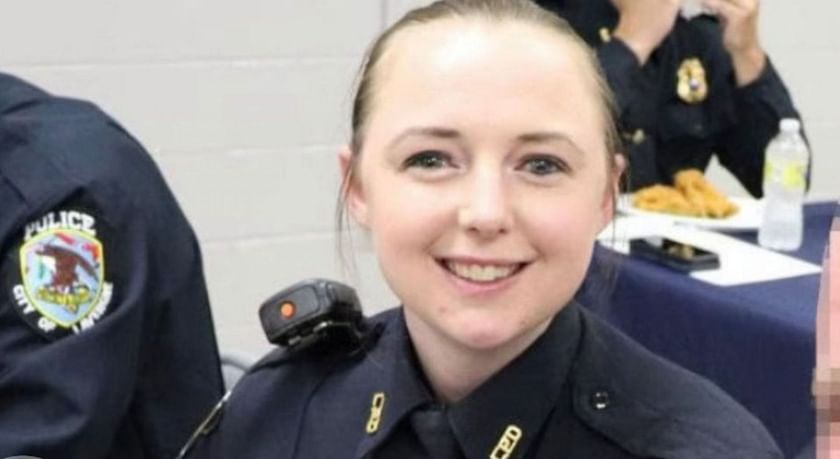 Maegan Hall is a former cop at the La Vergne Police Department. She recently made headlines after being fired from her job for having affairs with at least six of her fellow police officers on and off the clock.
Hall is married to former state park ranger Jedidiah, who is also the son of a pastor. Officers involved with Hall claimed that she said she was in an open marriage, but her husband allegedly looked upset after he saw the former kis*ing officer Magliocco's wife, Amy, during a party.
According to the Daily Mail, Jedidiah and Maegan Hall were college sweethearts and tied the knot in November 2018. The couple also bought their first family home in Manchester in March last year.
Reports from an internal investigation suggest that Hall allegedly tried to involve her husband in her trysts, but the latter "wasn't on board." However, Jedidiah reportedly stood by his wife amid the ongoing controversy.
Jedidiah's boss, Coffee County Sheriff Chad Partin, told the Daily Mail that the former attempted to salvage his marriage to Hall despite her scandal:
"I don't know how he's doing it, he's more of a man than I am, but he's trying to salvage his marriage."
As per the publication, Maegan Hall grew up in rural Tennessee and harbored dreams of becoming an actress. However, she ended up entering law enforcement in her 20s and worked for the second shift prior to her ban from the role.
In addition to her affairs, some colleagues allegedly expressed concerns over Hall's heavy drinking and mental health issues. Investigation reports suggest that officer Magliocco said Hall once unloaded her weapon and dry-fired the gun at her head "so she could hear what it sounded like."
Magliocco also reported that Maegan Hall allegedly voiced "harmful thoughts." He allegedly said on multiple occasions that Hall "should not be alone."
Hall has been described as a "petite blonde" with a "baby-face" and was known for showing her heavy tattoos on her TikTok accounts. In the wake of her scandal, the former cop was photographed smiling while walking her dog in the yard near her marital home, wearing a t-shirt, sweat pants, and a baseball cap.
She was later seen changing into a flannel shirt and jeans before heading to a nearby sports bar and reportedly spending several hours with a stack of papers and a vape pen.
Maegan Hall also spoke to The Daily Mail for the first time since the controversy and said that she was not interested in discussing the situation and instead focused on "moving on" and living her life.