What's the story?
Indian won just their second-ever Gold medal in Rowing at Asiad, when the Men's Quadruple Sculls team crossed the finish line on Friday. Sawarn Singh, Dattu Bhokanal, Sukhmeet Singh, and Om Prakash made up the team and finished the race in 6:17.13 minutes.
In case you didn't know...
India have amassed a total of 21 medals so far, with shooting being the sport that has garnered the most number of medals so far. The Indian shooters have brought eight medals -- two golds, four silvers and two bronze.
Meanwhile, with this medal, the Indian rowing contingent has levelled up with the wrestlers, garnering one gold and two bronze. However, the grapplers have garnered two golds and one bronze.
The most surprising medal has come from sepak takraw, as the men's team clinched the bronze medal in the Regu event, the first medal in the sport for India. Meanwhile, the wushu contingent also surprised one and all, as they notched up four bronze medals in various categories.
The heart of the matter
Little known fact about Rowing: The sport has won India twenty medals over ten editions of the Asian Games. However, the sport still went under the radar as the Games began.
However, soon after, the Indian rowers started showing their true potential. Over the first three days, ten Indian entries made it through to the final. Day Four and Day Five of the Games saw those finals being contested. While the first batch of the finals was a complete disappointment for India, the second was quite the opposite.
On Day Five, India won two Bronze and one Gold. The Bronze coming through Dattu Boban Bhokanal, Bhagwan Singh & Rohit Kumar. The Indian Men's Quadruple Sculls team, on the other hand, won the Gold.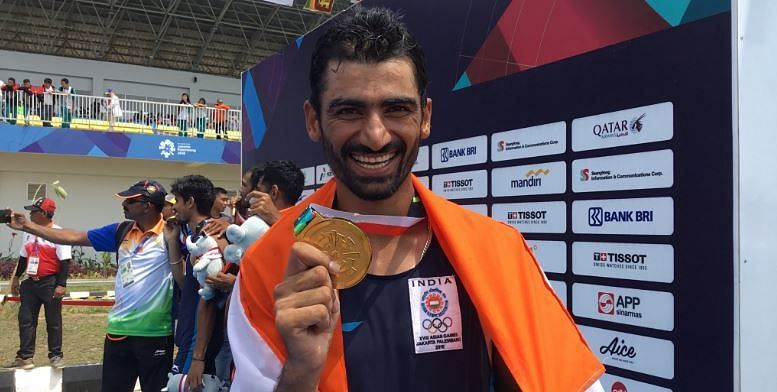 The Men's Quadruple team finished with a timing of 6:17.13 and won just the second-ever Asiad Gold for India in Rowing. The first one came through Bajrang Lal Thakkar, who achieved the feat eight years ago in Incheon, in the Men's Singles category.
What's next?
The Rowing contingent did not disappoint, winning three medals for the country. Moreover, there were several near misses as well, proving that if paid attention, Rowing can prove to be one of India's strongest sports.
---
What do you think of the overall performance of the Rowing Contingent? Do let us know in the comments below.