Defending Champions Evans Ruto and Dinknesh Mekash ready to set course on fire at January 18 Standard Chartered Mumbai Marathon
2.17K //
07 Jan 2015, 23:12 IST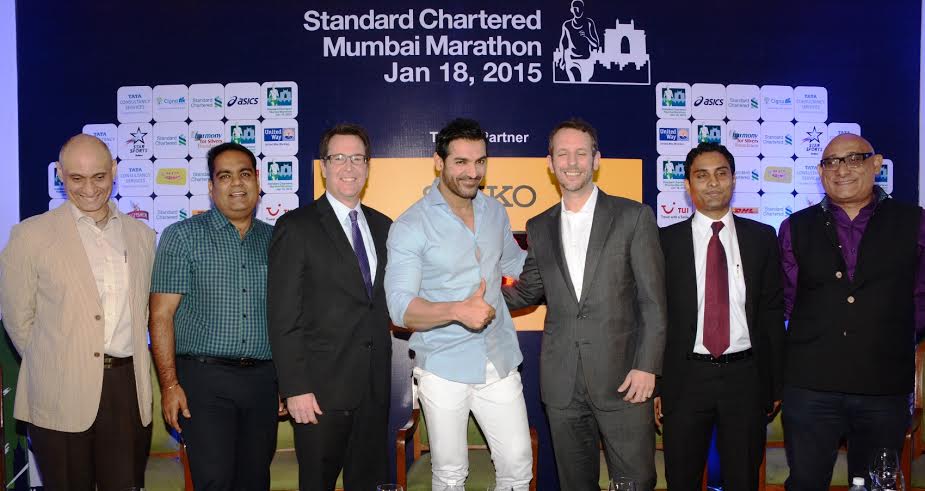 Former Wimbledon Champion Marion Bartoli is to be International Event Ambassador. 40,485 runners prepare to charm the running world in the 12th edition of the event
The time is drawing near for Mumbai, the city of dreams, to host the 12th edition of India's leading and Mumbai's very own annual sporting event, yet again! The Standard Chartered Mumbai Marathon (SCMM) has changed the lives of lakhs of people in the city and beyond by introducing them to running and set in motion a movement that has taken India by storm.
As a whopping 40,485 runners look forward to participating in the forthcoming event and endeavor to make marathon history, Procam International today made a number of significant announcements about the race at a Meet and Greet Conference at the Trident, Nariman Point, the Official Hospitality Partner.
Present on the occasion were Daniel Mobley, Regional Head, Corporate Affairs – India & South Asia, Standard Chartered, John Lenzen, Vice-President & Global Head Marketing, Tata Consultancy Services,Kshitij Saxena, Head Experiential Marketing & CRM Audi India, Rajesh Patel, Asst, GM, Seiko, India,Face of the Event John Abraham and Anil & Vivek Singh, Procam International.
The conference commenced with the unveiling of the event's Lead Car, the Audi Q5, carrying a prestigious clock belonging to Seiko, debuting as official 'timing partner' of the event.
In line with Procam International's efforts to bring some of the world's most accomplished sportspeople to India, France's Marion Bartoli, winner of the 2013 Wimbledon Championships singles title will be the 'Event Ambassador' of Standard Chartered Mumbai Marathon 2015.
Running revolution in India over last decade: Bartoli
Speaking about the event, Marion Bartoli said, "It gives me great joy to come to India to spread the magic of running and sport amongst the beautiful population. In the last decade or so, India has witnessed a running revolution and the sport has grown manifold. It is an honour for me to be associated with India's most prestigious marathon and witness, in action, running enthusiasm and experience the everlasting spirit of Mumbai. I am delighted with the support and popularity that the Standard Chartered Mumbai Marathon has garnered and urge the people of Mumbai to lend their support to causes close to their hearts through this movement."
Daniel Mobley, Regional head, Corporate Affairs- India & South Asia, Standard Chartered, said, "Standard Chartered is committed to running and we sponsor many marathons around the world including India. However among all the races this event has a special place. Historically India has not been associated with running, but since the event began twelve years ago, it has event has completely taken running to the next level. Today, we are amongst the top ten marathons in the world. We have more than 4000 runners in the full marathon and this is truly remarkable."
"We have been a part of the event for the last eight years as associate sponsors. At the time we got involved, TCS was not involved with any major sponsorships and running was an experiment. But a lot of things have changed since then. The company itself got involved in running and thereafter we have sponsored number of running events across the world. For the Standard Chartered Mumbai Marathon itself, we have more than 1500 employees and such is the impact of the event, said, John Lenzen, Vice President and Global head Marketing, Tata Consultancy Services.
Vivek Singh, Jt. Managing Director, Procam International said, "As India's first distance running event in the New Year, the Standard Chartered Mumbai Marathon carries with it a message of hope, cheer, good health and dreams coming true for everyone associated with the event. We trust each of you will enjoy a safe, happy and victorious run on January 18."
Highly competitive field to battle it out
Global Sports Communication (GSC), the event's elite athlete coordinator has put together a highly competitive field of elite athletes for the 2015 edition. In terms of elite performance, the event might be called a 'strategic' course. It's not the fastest, although the course records (2:09:32 for men and 2:24:33 for women) show that it is possible for fast times to be run. Leading the field at the start line on Sunday will be individuals such as defending champion Evans Ruto, highly experienced Luke Kibet and Endeshaw Negesse who will be the quickest men at the event.
On the women's side, runners including defending champion Dinknesh Mekash, Gladys Kipsoi, returning to Mumbai after taking the second place last year, and Marta Megra, who debuted in Mumbai in 2013 will provide thrilling action.
After a second place in Mumbai in 2013 and a win in 2014, Dinknesh Mekash is all set to star in the event for a third time. Mekash is in top form having run three strong marathons last year. Apart from a 2:28:08 win in Mumbai, she finished the Hamburg Marathon and Hengshui Marathon in 2nd and 3rd place respectively. Gladys Kipsoi finished second in all three marathons she ran last year in Mumbai, at the Lodz Marathon in Poland, and in Toulouse. Kipsoi has run a number of races in France as her athlete husband Duncan Kiptanui is based in France. The dominating runner from Kenya is hoping to start 2015 with a first place in Mumbai and uphold her impressive running throughout the season. Marta Megra is all set to return to the streets of Mumbai after making her debut here in 2013. She has run five marathons since her debut and seems ready to better her result of 2013. This year she aims for a podium spot in Mumbai. All eyes will be on Mekash, Kipsoi and Megra who will look at beating the other and improving last year's performance at SCMM.
The exciting men's field includes 13 athletes who have run the Marathon around the 2.12 mark and pose a strong challenge to the existing course record of 2:09:32 set by Uganda's Jackson Kiprop in 2013. Leading the Men Elite Athletes will be defending champion, Kenya's Evans Ruto who returns to Mumbai to defend his title. Ruto started competing internationally in 2005 and ran his first marathon in 2008 in Dusseldorf. The 31-year-old runner finished the Hannover Marathon in third place last year. Even though he won in Mumbai last year, he missed breaking the record by one second. Ruto will face stiff competition from Luke Kibet, one of the most experienced athletes in the field. He started running marathons back in 2004 and hopes his experience will give him some advantage over the younger athletes in Mumbai. His career has brought him podium places in big city marathons as Eindhoven, Vienna, Enschede, Singapore, Frankfurt and Zagreb.
However, clearly, the most impressive victory of his career was winning the 2007 World Championships Marathon in Osaka. Impressive Endeshaw Negesse ran a huge personal best of 2:04:52 at the 2013 Dubai Marathon. After that, he finished second in the 2014 Dusseldorf Marathon and fourth in the 2014 Shanghai Marathon. Endeshaw trains in Addis Ababa under coach and former athlete Tessema Abshero with other international top athletes like Ayele Abshero and Tsegaye Kebede. Other top athletes such as a highly consistent Tariku Jufar, who will be visiting Mumbai for the third time and three-time winner of the Vienna Marathon Henry Sugut, will ensure edge of the seat action.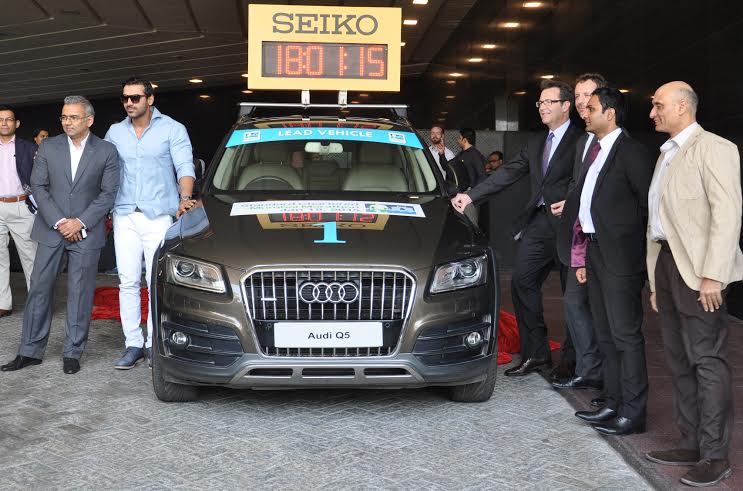 New Partner
Over the years, the most respected brands have partnered SCMM for the transformational role it plays in bringing individuals, organizations and institutions together. This year, timing major SEIKO is associating with the event as Official 'Timing Partner'. SEIKO has been the choice of the International Association of Athletics Federations at major Championships across the world since 1985.
"As a global brand, we have been associated for many years with leading sporting events, teams and individuals all over the world. Sport, and in particular athletics, is at the heart of the SEIKO brand, so we are delighted to forge a partnership with the Standard Chartered Mumbai Marathon. By attracting the world's top distance runners to India, the Standard Chartered Mumbai Marathon has sparked a running revolution in this country. SEIKO is glad to support the growth of this sport and to serve this event as Official Timing Partner and we hope to contribute to its success and help it to become one of the top marathons in the world," said Atsushi Kaneko, President of SEIKO India.
The Get Active Standard Chartered Mumbai Marathon Expo, a one-stop destination for runners, will be organized at Plot No.19, in the Bandra Kurla Complex, Opposite Citibank and near BPCL Petrol Pump, Bandra (East) from January 9 to 11. The Expo will be on between 10.00 am and 7.00 pmon all three days and will also be the venue for all confirmed participants from Mumbai and its suburbs to come and collect their running numbers along with the runners' kit. Outstation runners can collect their running numbers and kits on January 17 at Phoenix Market City in Kurla between 10.00 am and 5.00 pm.
While the Expo dates constitute an entire weekend, giving participants the whole of Friday, Saturday and Sunday to come and collect their running numbers, the period of a week before Race Day also gives them ample time to study in detail race day instructions, familiarize themselves with security arrangements, traffic restrictions, road closures and other arrangements that will come into force on Race Day.
As part of a unique endurance activity sure to thrill fitness enthusiasts, 45-year-old Ultra Marathoner Arun Bhardwaj - one of the first internationally acclaimed endurance racers from India - will attempt to beat the existing Asian record for distance covered on a treadmill in one day on 9th Jan 2014 during the Get Active Expo. Bhardwaj has participated in world famous endurance events such as the George Archer 6 day race in South Africa and the Badwater Ultramarathon in California, USA.
Registrations Rise
Drawing attention to the incredible running movement India's towns and cities are continuing to experience, the event has received a remarkable 40,485 registrations across categories. Registrations for the half marathon category oversubscribed and closed in a record 7 days after they opened. The full Marathon, DHL Corporate Champions and Champions with Disability race categories also experienced a surge in registrations.
The Marathon has received 4325 entries, 725 more than last year, representing a healthy 20-percentage increase. This is definitely an encouraging trend as all the full marathoners are timed athletes, making them serious runners, which goes to show how this event has encouraged amateur runners to train hard and attempt the distance of 42.197 km.
The DHL Corporate Champions is gaining tremendous popularity among organizations and is being viewed as a highly effective team building exercise for employees.
R.S Subramanian, SVP & MD, India, DHL Express said, "We are delighted to announce that 82 corporate teams will be participating in the DHL Corporate Champions category of the Standard Chartered Mumbai Marathon 2015. The fact that it is the fastest growing category of the marathon goes to show the value a number of leading organizations are placing in it. I take this opportunity to thank the participating corporates, wish all the runners the very best and hope they have a great running experience this year as well."