"We have not gone to the podium yet," says a relieved yet excited Varsha Gautham, "The prize distribution will take another 40 minutes!"
A month ago, Gautham wasn't even sure if she would be on the plane to Jakarta. On Friday, she and her event partner Sweta Shervegar won a silver medal at the Asian Games.
"I feel so great. We just came in and we were celebrating. We were just so happy. Because we waited for this day for a long time and it finally came. So we were really really happy," said the ecstatic sailor to Sportskeeda in an exclusive chat.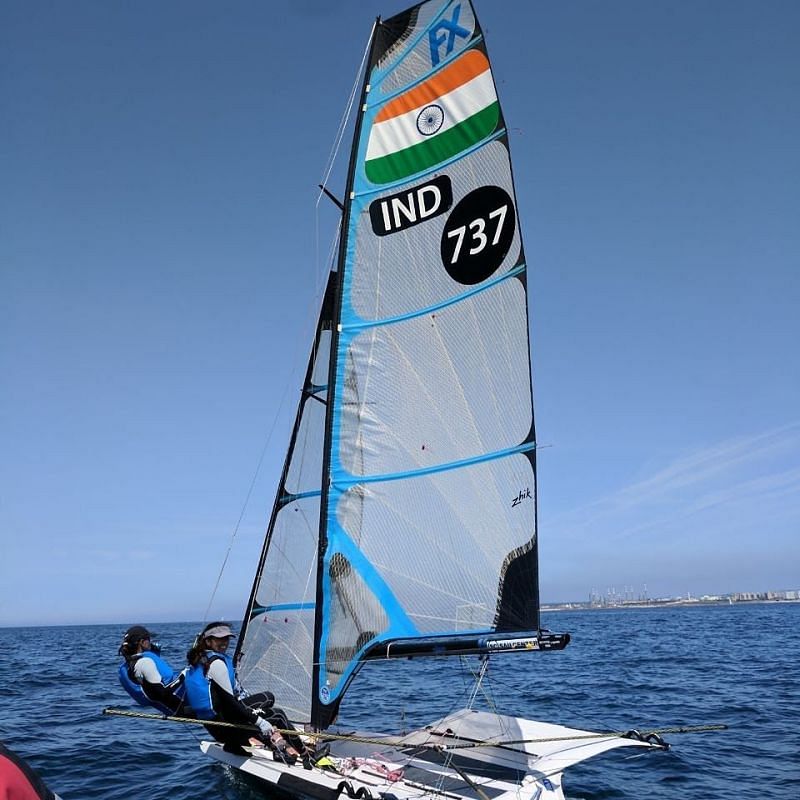 Gautham and Shervegar were involved in yet another Indian Olympic Association selection crisis, which had taken over the Indian camp shortly before the Games began. Their case was in a long line of cases, all of which were arguing against IOA's decision to drop them from the Indian contingent.
The two took their matter to the court. Their petition stood in the court, and before they knew, Gautham and Shervegar were on the plane to Indonesia.
"We had the whole selection process and everything but there were some issues in it. We had to go to the court over some issues and it was really stressful. But all of that seems such as a haze at this moment because we are really happy. It is time for us to relax and celebrate for now," recalls Gautham.
Trial by Water
As one trial ended, another began -- The Asian Games. However, if their previous challenge was mentally taxing, their next one took a toll physically.
"Usually, these events have 15 races. But this (Asian Games) was special because it involved 6 days of racing and on top of that, only two days of rest in between. It is not like that usually because we have only for three or four races in four days.
"But this was something different as it got over in 8 days. The pressure during this time was immense. But we just tried to keep our cool and treated it just like any other event," remarked the 20-year-old.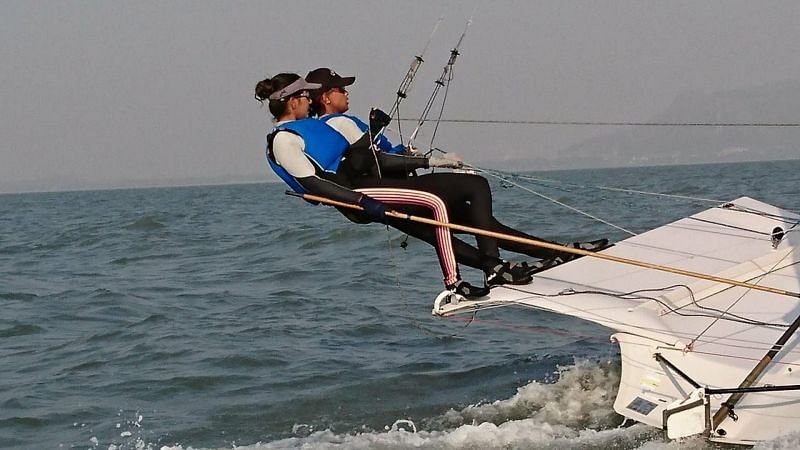 Despite her medal-winning performance, Gautham has not always received support from the government. The silver medallist has since turned to private funding, and believes that more private ventures into sports can help the field.
"We had some support from the government during my previous campaign. However, when I stopped sailing with my other crew, I lost all that.
"After that, we have just tried to go for private funding. I think it is really important to get the private sector involved in sports. Yes, the government helps but you still need something to cushion that. You need something to give the athletes that extra push," says Gautham.
"Another big reason sports needs the private sector is that of the visibility," continues the youngster, adding, "I think that is the one thing missing from sports right now. When the two fields work in unison, both business and sports will do well."
Keeping the Boat, Afloat
Even after the pair's medal-winning performance, there are still only a select few in India, who understand sailing as a sport. Nevertheless, Gautham believes that sailing is something everyone should experience at some point, and tells us what makes the sport so different.
"So the thing about sailing is that it doesn't have just one aspect to it. There are so many things that you have to do. Firstly you are on a totally different element, which is water. You are no longer on land and you have to adjust accordingly.
"Plus, you also have to take into consideration a lot of different things such as waves and the wind. Furthermore, you have to plan how to make your fastest way around the course. You have to think about your opposition," says Gautham.
She then goes on to compare the sport to business, as both require certain attributes to 'save the ship from sinking'.
"Sailing is a lot like business. You have to take risks, assess the damage, trust your partners, manage disasters, control stress, and solve the crisis," explains the newly-crowned Asiad silver medallist.
"All of that and more and that too, in a form of a sport...the amount that it can teach an individual is immense. I myself have learnt so much from sailing. I do believe, everyone should be able to experience this sport at least once because you learn so much."
For now, however, the youngster is keen on taking things slow. The last few months have been very difficult for both the sailors and after Friday's performances, they deserve a short break.
"Right now we are just enjoying the moment and celebrating. What we have gone through the last three months was very tough. I thought it was never going to end. But today is just a big relief and thus, a celebration. We will see what comes next later," Varsha signed off.
Edited by Sudeshna Banerjee