UFC 186: Johnson vs. Horiguchi - Preview & Predictions
2.53K //
24 Apr 2015, 13:46 IST
Ultimate Fighting Championship (UFC) returns to Bell Centre in Montreal, Canada as Flyweight Champion Demetrious Johnson will defend his title sixth straight time this Saturday night (April 26th, 4 a.m. IST), in the mainevent of UFC 186, against Japan's young & brightest upcoming talent, Kyoji Horiguchi.Here is my predictions for the entire UFC 186: Undercard:PRELIMINARY CARD (UFC Fight Pass, 4 a.m. IST)Nordine Taleb Defeats Chris Clements via Decision.Valerie Letourneau Defeats Jessica Rakoczy via Decision. Randa Markos Defeats Aisling Daly via Decision. PRELIMINARY CARD (FOX Sports 1, 5:30 a.m. IST)Patrick Cote Defeats Joe Riggs via KO/TKO.Sarah Kaufman Defeats Alexis Davis via Decision. Chad Laprise Defeats Bryan Barberena via Decision. Olivier Aubin-Mercier Defeats David Michaud via Submission. Main Card: (Sony Six / PPV, 7:30 a.m. IST) :-
#1 Yves Jabouin(20-9)vs. Thomas Almeida(18-0)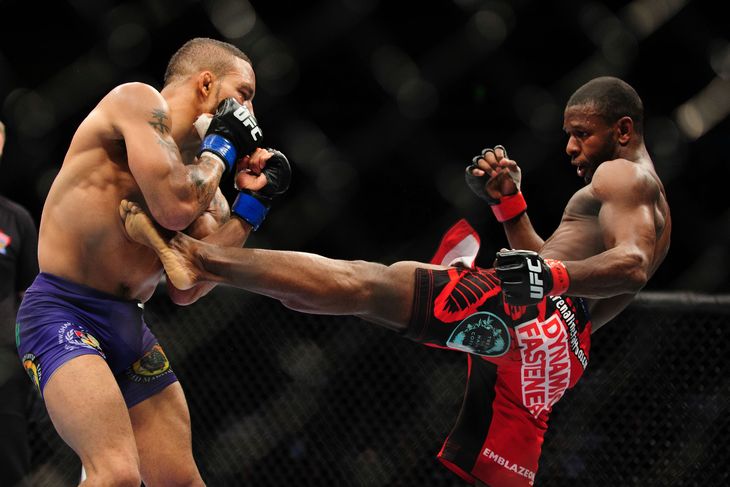 Stepping into the Octagon for the ninth time, Tristar-trained Yves Jabouin will have his hands full against rising prospect Thomas Almeida. Almeida is one of the top prospects in the UFC bantamweight division. The 23-year-old Brazilian is 1-0 in the UFC with a decision win over Tim Gorman, which was the first time in his entire career he went to the cards. Prior to the UFC Almeida had racked up 17-straight wins on the regional circuit with 13 of them coming by way of knockout and four by submission. Almeida is a straight-up killer on the feet. He has extremely sharp, fast, and accurate hands and kicks and he throws with huge power for someone at 135lbs. He has also shown solid wrestling defense, thus he keeps the majority of his fights on the feet.
Jabouin is 5-3 in the UFC the 35-year-old Haitian-Canadian is a crafty veteran who has been around the sport for a long time and who has fought a who's who of the lighter weight classes. He is known for his striking and has earned 11 career victories by T/KO but the problem with Jabouin is he's getting up there in age now and his chin, which has not able to withstand hard blows. He has been knocked out brutally twice in his UFC career and four times overall, and as he gets older the knockout losses will probably keep coming.
Jabouin is a good, underrated fighter, but this is a terrible matchup for him. Jabouin is a striker by trade but if he chooses to stand and bang with a young, accurate sniper with the knockout power of Almeida and Jabouin is certainly the best fighter he's ever fought, but considering the difference in age, chin, and skill on the feet, this is a tailor-made matchup for Almeida to win in devastating fashion and earn himself a name amongst the UFC fans who don't know him.
Prediction: Almeida wins via TKO.