Archers, badminton players exude confidence at send-off
883 //
15 Jul 2012, 22:21 IST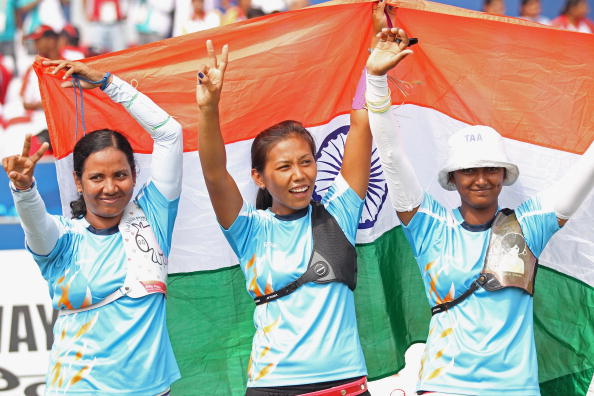 New Delhi - With most of India's largest Olympic contingent of 81 having already left for London in batches, only six archers and two badminton players attended the official send-off here Sunday evening. They all exuded confidence about their medal prospects.
World No.1 archer Deepika Kumari and her teammates Laishram Bombayala Devi, Chekrovolu Swuro, Tarundeep Rai, Rahul Banerjee and Jayanta Talkudar, and badminton players Ashwini Ponnappa and V. Diju gave thumbs up when asked how they felt with only hours left for their departure Monday.
The bulk of the contingent comprising the hockey squad and boxers are already in London training for the July 27-August 12 event.
The only concern for the archers was that Deepika Kumari's health. She was under the weather. Her coach Poornima Mahatao, who was also there with chief archery coach Limba Rama, said the 18-year-old had not been keeping well.
"She has cold owing to the change in weather. It was very hot in Kolkata and it's raining here. She should be fine in a couple of days. She is a big medal hope and it is important that she stays perfectly fit," Poornima told IANS on the sidelines of the function hosted by Indian contingent's principal sponsor ONGC.
A medal can be expected from the men's recurve trio of Rai, Banerjee and Talukdar after their silver-winning feat at the World Cup in Ogden last month.
Rai, who surprised many by winning silver in the 2010 Asian Games, said they were ready for the challenge, though they could have done with a little more preparation time.
"We qualified almost at the 11th hour and that gave us not much time for good preparation. But, we don't mind that as archery is a sport where performance on the day matters most. We are mentally prepared for the challenge," said Rai, who lost the bronze play-off at Ogden by a whisker.
While the women secured their Olympic berth last year, the men earned their place during the World Cup last month.
On his and team's medal chances, Rai said: "I am doing well in individual rounds though I have not won any medal recently. I have been losing in tie-break rounds only. Basically, I need to be steady in crunch situations.
"In the team event, a medal winning score is between 225 and 230. We were able to shoot that during training. The important thing is we don't go below the 220 mark. We don't have to shoot 240 but we must be consistent with our scores."
The Sikkimese archer is looking forward to competing at Lord's Cricket Ground, the venue for the archery event.
"We won the 1983 Cricket World Cup at Lord's so I am hoping we get a similar result when we compete there. I am hoping Lord's wll be lucky for the archers as well."
A couple of medals could come from badminton as well. Though Saina Nehwal remains the best bet, Ponnappa asserted one can't count her and her doubles partner Jwala Gutta out of the medal contention.
"The nervousness is creeping in slowly. I and Jwala have worked really hard for this. We preferred to go later than others as we preferred practising at home rather than having sparring with players from other countries. Even in London, we will be training amongst ourselves and our coach Syed Mohammed Arif will be with us," World Championships bronze medallist Ponnappa told IANS.
Others attending the event were Union Sports Minister Ajay Maken, Indian Olympic Association (IOA) acting president Vijay Kumar Malhotra and secretary general Randhir Singh. India fast bowler Ishant Sharma was also among the guests.
India will be fielding 58 men and 23 women in 13 disciplines as against 56 at the 2008 Beijing Games.