Fabrice Muamba brought the fans and players together
I wanted to say a few words about what happened to Fabrice Muamba and the way people have reacted. The way it's made us think and all of that. But I didn't quite know what to say. And I didn't know whether it'd be seen as insensitive to use this unfort...
542


Saturday night at White Hart Lane, just before half-time, everyone in the ground fell silent. And as the news broke through TV, radio and social media about Fabrice Muamba's sudden collapse during the FA Cup tie between Tottenham and Bolton,, every fan of English football was left stunned.

Fans, players, journalists and pundits alike were at loss of words. It was truly gut-wrenching to watch a 23 years old, fit professional footballer, collapsing due to a cardiac arrest. It was hard to explain, hard to talk about, hard to fathom. If there was any good to come out of this incident, it is that we were all reminded of what we are: Football fans.

In every game that our team plays, we support, sing players' names, cheer, jeer, laugh, cry, scream, shout. We all go to watch 11 players run about on a field trying to score more than the opposite 11. But when an incident like this happens, the badge on the shirt becomes irrelevant. 

We're not supporting the Arsenal Cannon, we're not supporting the Tottenham Cockerel, the United Devil, the Liver Bird, the Chelsea Lion or any other badge. We are supporting the badge of love, respect and humanity. It was great to see so many people come together and wish the best for Fabrice. Inspiring even. 
Everyone associated with Tottenham received so many plaudits for their actions, and rightly so. Given Muamba is an ex-Arsenal player, it was great to see them sing his name along with the Bolton faithful. But why should we be surprised? They are human after all. It's no less than I would have expected. 




I have friends who support other clubs. On a matchday, we'll throw a few words at each other, have a bit of banter, maybe even have a pop at one another. But away from football, we are all human beings, every single one of us. Life is more important than anything. 

If we let a bad result or a poor refereeing decision ruin our week, what does that say about us as people? What happened to Muamba is important, and there's a chance it could sadly happen again. People see footballers as heroes and superstars. And they are, but above all that, they're just normal human beings. Sons, fathers, brothers, uncles, nephew's, grandchildren – People. Off the pitch they are just as vulnerable as we all are. 

Take Andrés Escobar, for example. He was Colombian defender who was shot dead in 1994 aged just 27. This was a result of scoring an own goal against the USA which ended up knocking his nation out of the '94 World Cup. Another incident is that of Salvador Cabañas, a Paraguayan striker shot in the head in 2010 after attempting to stop a robbery in a Mexican Bar. Luckily, two years on, he is back playing football for Paraguayan club, Club 12 de Octubre. 

And just a week after that incident Cabañas' former Club América team mate, Juan Carlos Silva, was also shot during an attempted robbery. Just goes to show how real life is. And football isn't life. It's a part of life. We are one community split on match days. That's all. It's a shame sportsmanship isn't shown more often. If a player goes down injured, he gets booed. 
What if he is seriously hurt? Fair enough, most get clapped off, but why should we instantly assume they're faking injury? Players diving and feigning injury are the cause of this. There should be serious consequences for trying to con a ref. What if a player goes down faking injury and diverts the attention away from a player who seriously needs help? Nowadays, the presumption is most players dive to win their team a penalty or a free-kick. 
And when someone is seriously hurt, we believe they've gone down easily. It's a weird one to explain. Last night showed how great people in this world are. There were a few making jokes but they will get their comeuppance eventually. One 'person' going by the name of Liam Stacey was arrested in Swansea following his sick tweets.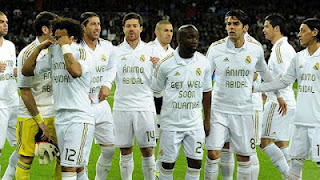 It was also great to see Real Madrid show their support for Fabrice along with other teams around the world. But not only has Fabrice needed our support, Éric Abidal has as well. It was great to also see Real Madrid and its fans show their support for Éric along with fellow La Liga fans and clubs, after news broke that Abidal requires a liver transplant.


That is why it's called the beautiful game. I'm so proud to be a football fan at times like this. Often accused of being hooligans, thugs etc, I hope moments like this change the misconception of the admirers of this wonderful sport. 



Written by Ryan Goodenough
Follow him on Twitter @RealYoungGunner


Please like O-Posts on Facebook
Follow the site on Twitter