India vs Tajikistan - Match Preview (Indian perspective)
549
The Indian team will play their first match of the AFC Challenge Cup on Friday against the winners of the 2006 edition – Tajikistan. The rematch of the 2008 final (which ended 4-1 in India's favour) will be Sunil Chettri's first match as the team captain. His hat-trick destroyed the 'Persian Lions' in the last meeting between the two teams.
This match will be of utmost importance for both the teams since North Korea are regarded as firm favourites to win the group and as well as the tournament,  according to the Persia-India team coaches. Savio Medeira suggested that Tajikistan, Philippines and India will be fighting for the 2nd spot. On the injury front, Rocus Lamare is fully fit and Nirmal Chettri has a 50-50 chance of being match fit, according to Savio.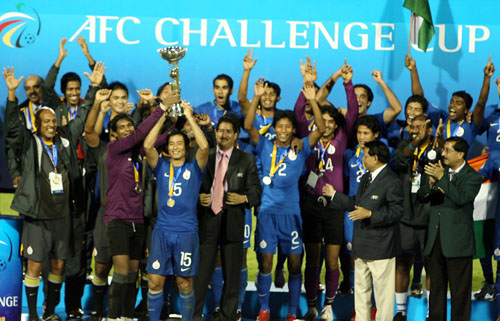 On being asked about the psychological impact of the 4-1 vicotry on tomorrow's match, both the coach and the captain of the Indian team said, that it will just be another day of football. The Tajik coach suggested that four years is a long time and a lot has changed since then. Tajikistan have never qualified for the FIFA World Cup and they are ranked 145 in the world rankings.
Players to watch out:
Syed Rahim Nabi - The East Bengal man can play almost anywhere on the field. Recent friendly matches suggest that he will start on the full back position. His darting runs and precise passing can be crucial for India's attack. The vice captain of the team is rock solid in defence and will be key in halting the Tajik wingers.
Sunil Chettri - Arguably the best striker in the country at the moment, Chettri knows what it takes to score against this particular side. With adequate amount of service from the midfield, it won't take long for him to find the net.
Yusuf Rabiev - The experienced striker from the Tajikistan contingent will be the player to watch out for the India defence. He is their all time leading goal scorer and a dangerous attacker even at the age of 35.
Indian Squad for the game:
Goalkeepers: Karanjit Singh (Salgaocar), Subhasish Roychowdhury (Dempo SC), Arindam Bhattacharya (Churchill Brothers).
Defenders: Nirmal Chhetri, Raju Gaikwad (both Kingfisher East Bengal), Sameer Naik (Dempo SC), Gourmangi Singh (Churchill Brothers), Anwar Ali, Kinsukh Debnath, Syed Rahim Nabi (all McDowell Mohun Bagan), Gurjinder Singh (Pune FC).
Midfielders: Adil Khan (Sporting Clube de Goa), Anthony Pereira (Dempo SC), Reisangmi Vashum (Kingfisher East Bengal), Rocus Lamare, Francis Fernandes (both Salgaocar SC), Jewel Raja (McDowell Mohun Bagan), Lenny Rodrigues, Lalrindika Ralte (both Churchill Brothers).
Forwards: Sunil Chhetri (McDowell Mohun Bagan), Sushil Singh (Shillong Lajong FC – on loan), CS Sabeeth (Pailan Arrows), Joaquim Abranches (Dempo SC).