Internazionale: February Review
How it can all change in a month. How can you evaluate the month just gone. At times we lacked a little luck, at times we lacked confidence lacked quality but to be honest it was quite a pathetic effort by some. If your leaving or want to leave then th...
544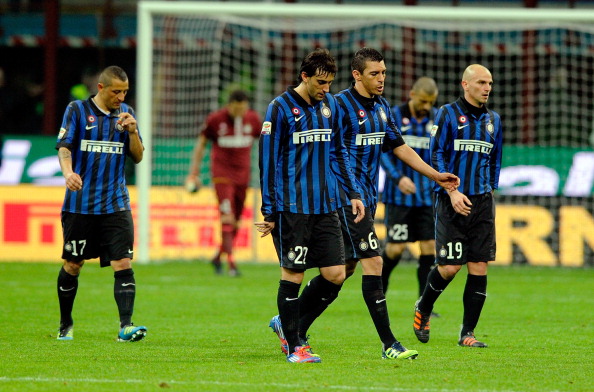 How it can all change in a month. At times we lacked a little luck, at times we lacked confidence and lacked quality but to be honest it was quite a pathetic effort by our players, especially Wesley Sniejder. If you are leaving or want to leave then that's fine but give your all until that time comes. And I mention Wes purely because I expect a lot more from him. One because of his quality and two because how much he's being paid.  A lot of players are not performing and by no means is Wes to blame but he's paid a lot for a reason.
The results from February 
29th February: Inter 4-4 Palermo
The match was a great advertisement for  Calcio and a great game for a neutral. Shame I wasn't a neutral though. Once again Milito was outstanding. How can you score four goals at home and still not win is beyond me. Why and how did we throw this result away? poor goalkeeping and defensive balance. Palermo seemed to walk right through our defence and knock the ball into the far post. I rate Caesar highly, but his positioning and ability to defend his goal from shots far off is awful.
5th February: Roma 4-Inter 0
This was easily one of the worst performances I have ever seen as an Inter fan. We created more chances against Novarra under Gasperini than we did against Roma. From the moment we kicked off, there seemed no hope, no game plan and no effort. I get the lack of options for Ranieri but he didn't adapt to the situation well, he didn't have the players for 4-4-2 but still continue to use it in games. 2-0 down at half time and he takes the forward off. Why not go 4-3-3 with  Milito, Pazzini and Castaignos up top, put pressure on their full backs with Cambiasso in front of defence and let Poli push on, full backs push up. I would rather lose 4-0 trying to get back in game than lose 4-0 and look lost.
12th February: Inter 0-1 Novara
20 shots, 32 mins of ball possession and no goals compared to the five shots, 19 minutes of possession, and the one goal from Novara. The quality of service was dire, 13 shots off target really show how we could not break down a team that are likely to be propping the rest of Serie A come May.
17th February: Inter 0-3 Bologna
A game under the Friday night sky was upon us, fans were expecting a big win  ahead of the Champions League match, but instead we failed to convert the few chances created and then we conceded two goals in two minutes and hardly created anything again. We did manage to concede one more with five minutes left when Ex-Inter youngster Acquafresca making it three. Once again the build up play was awful. Attacking plays, breaking from midfield, counter attacks etc, sure doesn't seem like it.
22nd February: UCL- Marseille 1-0 Inter
Watching our beloved Nerazzurri walk out from the tunnel at the Stade Velodrome was a sight to behold. I was once again hoping for a win. To be honest after the first half I was thinking it was a step in the right direction, Inter seemed to work like a unit, a team that just needed a goal which unfortunately was wasted when Forlan failed to tuck away a great chance. I quickly got tired of watching Zarate put his head down and try to outrun the defenders on his own. Obi was brought on and I thought that he would utilise the space on the left flank but it didn't happen. Some sloppy defending from Chivu saw us go down by a goal.
26th February: Napoli 1-0 Inter
Did the improved efforts or the late goal from mid week give us a drive to perform better, no, not at all.  According to the stats not one shot on target. Again I have to say the buildup play was nonexistent and when we do get in a good position the final ball is often wasted. Towards the end Nagatomo worked the left flank well and finally put in a ball of quality, Pazzini read it, moved into position and then some how managed to send it wide.
The fact that we have been unable to score is obviously of great concern but I don't blame the front line. All the best forwards miss chances but I don't remember watching so many matches where a team struggles to move the ball forward and into the box.
Top Three Goals
http://www.youtube.com/watch?feature=player_embedded&v=zR5oGLwMEJo
Player of the Month
I really didn't want to be negative and leave this blank, but there are no clear choices. Perhaps Diego Milito for his goals against Palermo. Some great finishing from a player that has worked hard to bring back some of his old form.
News
Most of the headlines have written about our current run of form. Managers names are being tossed about like confetti. There was a talk of Figo and Baresi taking over as interim mangers for the rest of the season. Long term and I say long term with a pinch of salt, names such as Pep, AVB, Capello, Zeman, Blanc and Bielsa. Even AVB would be a great appointment, but whoever it is must be backed and we have to be patient.
In a fresh bit of news that comes out as a rumour of some investment from the east by either sponsorship or a percentage of ownership. According to the papers it'll be used to fund a new stadium. These rumours come out once in a while and Moratti usually ignores them but on the latest rumour he said " We will think about those in due time. For now we are thinking of sporting matters" for me this says there may be offers to review, which is exciting. I love the Giuseppe Meazza, but to ensure a big future we need a new stadium an all that it brings with it.
Finally a brief touch on transfers, as  usual all the names you could imagine are being linked with a move to San Siro. What makes me laugh is suggestions of Higuain and Martinez. Anyone that has been an Inter fan for long  knows if Moratti had the money to spend it would have been spent already.
Contract talk: Walter Samuel has reportedly turned down an offer for renewal. Walter is a top defender that I have loved since his Roma days but nostalgia is not a reason for a new contract. Let's trust in Ronnochia/Lucio and Juan Jesus maybe even Caldirola. More contract news: Chivu's agent insists he will be playing for the club next year, but then the next day his agent says he has loads of offers from other clubs.