Suarez's time with Liverpool isn't up yet
Been exploring the blogosphere this morning, and yet again, I found lots of rumours linking Liverpool striker Luis Suarez away from Merseyside. So what's my take on the situation? First of all, let me bring you the facts. Apparently, this was what was said by Luis Suarez, following the rumours linking the Uruguayan striker to [...]
542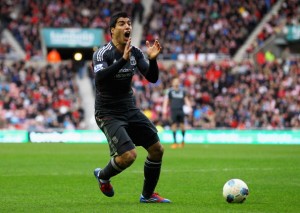 Been exploring the blogosphere this morning, and yet again, I found lots of rumours hinting that Liverpool striker Luis Suarez is about to move away from Merseyside. So what's my take on the situation?
First of all, let me bring you the facts. Apparently, this was what was said by Luis Suarez following the rumours linking the Uruguayan striker to the Parisian outfit Paris Saint-Germain:
"I would love to play at the same club as [Lugano]"
Guardian.co.uk
That doesn't link to a move to PSG. Instead, I view that as him trying to get Liverpool to sign Diego Lugano. But back to the more pertinent issue.
No. Suarez should and will not leave Anfield come the summer transfer window at the end of the year. The first reason is because Liverpool don't have experience in their strikeforce, with him and Englishman Andy Carroll the only 'out and out' strikers in the team (other variations of the forward role include performances displayed by Dirk Kuyt and Craig Bellamy up front).
Furthermore, if the move is being prompted because of the abuse he has been getting from opposing fans, then he is wrong to want to move to Paris Saint Germain, of all teams. PSG play in the Ligue 1, the French first division, and guess who's French? Yes, you got that right. Patrice Evra.
Luis Suarez is a splendid player, and I personally believe that the benefits that will come with him staying will significantly outweigh the costs of keeping him at the club. He is genuinely phenomenal player who just lacks the finishing ability in his game.
Dribbling, check. Passing, check. Skills to pay the bills, check. He can come up with moments of magic, but Kenny Dalglish must find a way to keep the Uruguayan's temper in check for all games over the course of a 38 match Premier League season.