Philippines knock India out of the AFC Challenge Cup
News
11 Mar 2012, 21:22 IST
550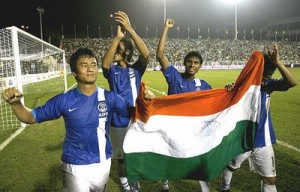 The Azkals got the better of the two erratic attacking displays by India and Philippines. The Indian side started with a couple of changes from the previous outing but failed to capitalize on their superior ball possession. Philippines carved out only 3 openings and converted on two occasions in the whole match and looked as disorganized as The Blue Tigers while attacking.
India started the match on an attacking note but there was little purpose to their possession. Raisangmi Vashum, who was in the side in place of Anthony Perreira blazed his shot agonizingly high on the 6th minute. Openings were hard to come by for the blue tigers. The Indian defence line failed to deal with a long throw from the flanks by the Filipino defender- Sabio. Former Chelsea youth team top scorer, Phil Younghusband, slotted the ball home in the bottom corner from an acute angle.
Sunil Chettri came close with a freekick on the 21st minute. Adil Khan tried to slide in and steal the ball and succeeded on a couple of occassions before he was benched on the 32nd minute for Jewel Raja to come on and change things in the attack. Vashum and Jewel lacked confidence while going forward, mabye because of warming the bench too much in Savio's reign as the chief coach. Sunil Chettri was far from his best. Savio Medeira blamed the lack of match fitness for the Mohun Bagan striker's lacklustre display.
India had a single shot on target in the first half when Abranches hit the ball straight into the hands of Fulham Goalkeeper, Neil Etheridge. Philippines went close on the 41st minute when the first goalscorer was clean through on goal but Raju Gaikwaad just did enough to put him off with a sliding tackle.
India kicked off the second half in a bid to get back in the game but nothing changed from the first half. Philippines played with a narrow back line and midfield and did not allow for too many gaps. The game lacked any sort of sustained fluidity in the midfield and the azkals were happy to defend a few vague long balls in their box. India continued to press but lacked any sort of purpose and could not penetrate their opponent's defence line. The Younghusband brothers combined brilliantly for the second goal for the Azkals 4 minutes after Abranches missed a free header from a Rocus Lamare Free Kick. Phil Younghusband scored his second in the 73rd minute which ended all hopes for the team from South Asia.
Sunil Chettri lacked any sort of balance to kick the ball into an empty net when the recently brought on Sushil Kumar squared off a pass to him. This miss perefectly captioned the day for India who are mathematically eliminated from the contest now. A fully fit Ralte, Jeje and Subrata Pal might have made a difference but India did not deserve to get anything from today's game.
Match Stats
India
Karanjit, Raju Gaikwad, Abranches(Yellow Carded on 65th min), Sunil Chettri, Samir Naik, Adil Khan (Substituted on the 33rd minute for Jewel Raja),Gouaramangi Singh, Rocus Lamare, Syed Rahim Nabi, Francisco, Reisangmi Vashum ( Substited on 70th minute for Sushil Kumar)
Philippines
Neil Etheridge, Robert James, J Guirado, James Younghusband, Phil Younghusband(Goal scorer- 10th and 73rd minute),Angel Guirado( Substituted For Ian Araneta on the 81st minute),Emelio Caligdong( Substituted for Misagh Bahadoran on the 55th minute), Martinez De Murga, Paul Mulders, Ray Anthony, Jason Abbott Sabio,