What should Liverpool do???
Feature
12 Mar 2012, 19:01 IST
549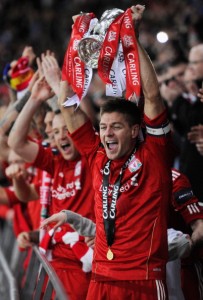 Liverpool has an abundance of talent, as is evidenced by their good showings in the FA Cup and Carling Cup. And yet, they are still struggling for that 4th position in the Premier League. Liverpool supporters all over the world are criticizing  players like Andy Carroll, Jordan Henderson and Charlie Adam who they claim are not performing up to the mark.
Frankly, I respect Kenny Dalglish, but his tactics and formation have been sub-par. He is completely relying on Luis Suarez for attacking. As Liverpool most of the times play in 4-5-1 formation it becomes easy for the opponents to mark Suarez as he is the only guy upfront. Sure, Suarez is a world-class player and he is still able to fool the defenders and create good chances, but we are also aware of the horrible finishing quality of Suarez. The players whom I mentioned earlier definitely deserve criticism but criticism won't change a thing.
As a Liverpool supporter, I would like to see Maxi Rodriguez and Dirk Kuyt up front with Suarez. Dirk Kuyt is an exceptional player but along with that he also has an amazing finishing quality. I think Kuyt does not deserve to be in the midfield. With players like Skrtel and Jose Enrique they need not worry about the defence. All through the season, against smaller teams like Bolton, Wigan and Wolves (with all due respect),  Liverpool have played an attacking game despite risking unfavorable results. On the other hand, against teams like Arsenal, Chelsea and Manchester United, they have been playing a defensive game. Now I don't know whether it is the players or the manager that are being too cautious about conceding goals early. Yes, caution is required but too much caution is not helpful; it makes the opponent's defence  feel very comfortable. Liverpool cannot afford to let that happen.
Now as we all know, Carroll has not been performing at the level he is expected to, which is why I believe he should only be used as a substitute. If any of the strikers are not fit to play then Craig Bellamy should be used, but not Carroll, as he has low stamina. I know I am being very harsh with Carroll but if someone has been bought for 35 million, he ought to perform better. If Liverpool really want to make their Champions League dream a reality I believe they need to follow the following:
1) Formation: 3-3-4
2) Squad:  Suarez, Kuyt, Rodriguez, Downing, Gerrard, Adam, Skrtel, Enrique, Johnson, Agger and of course the legendary Pepe Reina
3) Substitutes: Doni, Carroll, Bellamy, Coates, Henderson, Spearing.