Asian Individual Squash Championships: Highlights from the quarterfinals
1.41K //
04 May 2015, 12:18 IST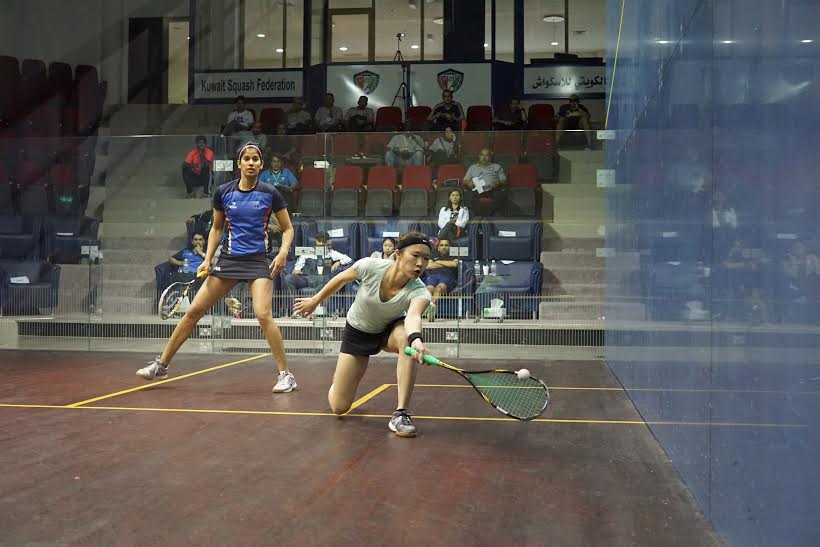 Women – Seeds crumble in the last eight
Annie Au (HK) was first on and cruised past young Rachael Arnold from Malaysia. "It was a great experience playing Annie," said Rachael.
Next on were Indian Joshana and Joey Chan from Hong Kong. A thrilling 5 setter, which went, so much back and forth that one was never sure who was going to win. In the end, Joshana showed resilience to earn a play off with Nicol who had a fairly routine victory over Liu Tsz Ling of Hong Kong.
The 4th quarter was a battle between two very talented and aggressive players, Dipika Pallikal and Delia Arnold. The match lasted an exciting 95 minutes. A whole range of shot making and retrieving skills were on display. As both players gave it all they had, the match got physical on a number of occasions, but the ref kept it all under control. Delia's consistency and effective backhand drops and drives eventually paid off and she came through, for a match off with Annie Au tomorrow.
Men – Top seed topped
No.1 seed Max Lee of Hong Kong was beaten 3-0 by Pakistani Farhan Zaman. "Fast and Furious" said Indian National Coach Cyrus of the match. And so it was. Both players were hitting the ball fairly hard and at the same time displayed tremendous retrieving abilities. The difference though was Zaman's shot making skills. He was going for winners at his whims and fancies, and getting most of them in.
Max gave it his all but today Zaman was on song. Will he continue his giant killing spree when he takes on Max's teammate Leo Au in the semis tomorrow, is the question on everyone's lips?
Leo meanwhile overcame a gritty Yip in the 2nd quarter. Underdog and compatriot Yip came on strongly to take the first. But the relentless pressure by Leo forced Yip into making numerous errors. Although Yip put up a gallant fight towards the end of the 4th, it was not to be. Leo wins 3-1 for a showdown with the conqueror of his teammate, Farhan Zaman.
Nasir Iqbal of Pakistan upset second seed Saurav Ghosal. Saurav is well known for his speed and attrition. However today not only did Nasir match him in this department, he also used the front left with telling effect. He earned numerous points of drops and counter drops. Though Saurav won a close first, Nasir came back strongly to take the second. The referees decisions right from the word go rattled Saurav. A clear stroke for Saurav at the end of the first rally was given as a let.
Thereafter Saurav questioned numerous calls and the explanations given were not satisfactory to Saurav. Even Nasir was at the receiving end of some questionable decisions. Needless to say both players plodded on. Nasir ultimately won 3-1 to earn a playoff with Kuwaiti Abdullah Mezayen
Home favourite Abdullah Mezayen was up against Malaysian number 1 Nafiizwan. It is always entertainment, watching the gifted Abdullah in action. No different this time. It was a high-energy match with Nafiizwan giving everything he had and matched him to a large extent. Nafiizwan took the second game just to prove a point. However the third and fourth went Abdullah's way as he converted all the finishing shots, to safely take victory. The legendary Qamar Zaman who watched the match said, "Mezayen plays exactly like me"
What an exciting day of squash it was.