Egypt To Face England in Squash World Cup final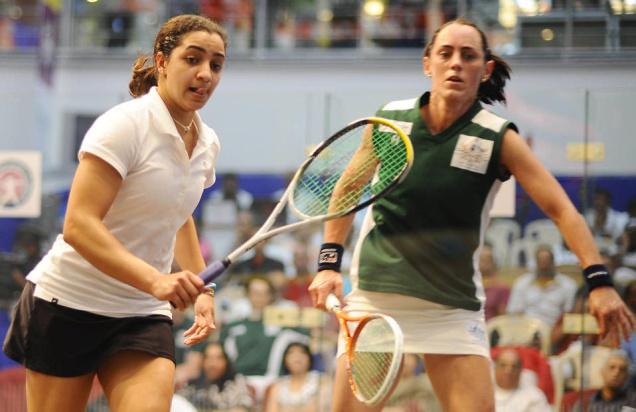 In todays finals of the Squash World Cup in Chennai, Egypt will play against England.
The top two seeds – Egypt and England defeated third ranked Australia 3-0 and surprise semifinalists Malaysia 2-1 respectively to enter the final of the Squash World Cup team championship.
In the first semi-final, the Top seed Egypt had an easy win over Australia, winning by a 3-0 margin, to reach the final of the JSW-SDAT-WSF mixed team Squash World Cup at the Express Avenue Mall here on Friday.
In the other semifinal, second seed England defeated Malaysia 2-1. In the opening tie, Egypt's Ramy Ashour, World No.2, routed Cameron Pilley 11-5, 11-3, 11-8. Next, Raneem El Weleily upset Rachael Grinham in five games 4-11, 11-9, 7-11, 11-8, 12-10.
The results (semifinals):
Egypt (1) bt Australia (3) : 3-0
Ramy Ashour bt Cameron Pilley 11-5, 11-3, 11-8 (44m);
Raneem El Weleily bt Rachael Grinham 4-11, 11-9, 7-11, 11-8, 12-10 (51m);
Karim Darwish bt Aaron Frankcomb 11-8, 9-11, 11-5 (40m).
England (2) btMalaysia (5) : 2-1
James Willstrop bt Muhd Asyraf Azan 11-7, 11-3, 11-1 (26m);
Jenny Duncalf lost to Low Wee Wern 5-11, 8-11, 11-8 (retd) (35m);
Peter Barker bt Choong Kam Hing 11-1, 11-4, 11-4 (19m).