Aadit Zaveri is a young Indian squash player. He became a professional in January 2018. From then, he's made significant improvements in the PSA Rankings. He shifted his training base to Cairo this year, in order to improvise his skills.
In an exclusive interview with Sportskeeda, Aadit talks about his squash career and his will to represent India again at the highest level.
What inspired you to play squash at a professional level?
Aadit: Firstly, I would have to say that the root of all this is the unparalleled feeling of winning. Chasing the feeling of winning in the sport of squash is beyond any feeling I have experienced, and it's the biggest driving force for me. Winning is exciting at any level, but the higher the level, the higher the feeling of reward. I have been a competitive athlete; playing squash and was a swimmer from a young age. I have for the most part always been at the top from a junior level.
My father was a 4-time national champion swimmer in 100-m butterfly, and the hunger of competition and winning was instilled in me at a very young age. I started playing squash around 10 or 11 years old, and I quickly made it to the top few ranks in India for most of my junior career.
What drives me every day beyond wanting to win at any levels is my dream of playing for India at an international level again. I had a few times as a junior player, and I hope to be able to represent my country at the highest level at some point in the near future.
You've recently shifted to Cairo in order to play squash professionally. What prompted you to change your training base to Cairo?
Aadit: Egypt for the better part of the last few decades has dominated squash at the professional and junior level. I was lucky enough to have met the right people along the way who have grown up in the Egyptian squash environment and are currently dominating the game internationally (Mohamed and Marwan ElShorbagy).
I was also fortunate enough to find the most incredible, driven and hard-working coach, and team of people here in Cairo who have aligned their vision with mine to help me achieve my goals and dreams going forward. Furthermore, several of the world's top professional players live and train in Egypt, and it is great to be able to train and compete with these athletes on a daily basis. It provides me with both the inspiration and the challenge to reach new heights in my personal game moving forward.
I also have my long time coach from Millfield school who is based in England who I train with when I go back there as he has been with me through this journey from Day 1 as well. England is a great base of training and players as well.
You took a break of three years from professional squash. How would you like to describe your recovery process after you opted to do it again professionally?
Aadit: Actually, I only began to play professional squash (PSA – Professional Squash Association), from the beginning of January 2018. I had previously played at a high international junior and college level. I was lucky enough to be the captain of the Franklin and Marshall college squash team which finished 4th in the intercollegiate squash championship in my senior year. After graduating from college, I felt I had lost the hunger and passion for the game of squash to train those hard and brutal hours. Hence, I moved to New York and used my competitive nature to pursue a job in finance where I was fortunate enough to work in a Global Hedge Fund for roughly about three years until I moved back home to Mumbai last year.
I tried professional boxing for a short period to keep myself fit as I love fitness in general. However, while transitioning back home mid-year '17, I began to miss squash and felt the hunger to compete in it again. Finally, after a long process and much deliberation, I decided to become a full-time professional squash player in January of this year.
I would say the process has been incredibly hard, more so than people could understand as I hadn't picked up a racket in 3 years until August/September of last year. It has taken a great deal sacrifice for me to move my life to a new country where I am unfamiliar with the language and training up to 6-7 hours a day, with no guarantee of success. Most people will never see the hard work or struggle you go through behind the scenes. They only rely upon the final results of you winning and losing.
However, as hard as the journey and move has been so far, there is a beauty in the struggle. I have started to feel the same love and passion for this sport as I did once as a junior, with the hunger and maturity of a senior. In the last six months, I have gone from not having a PSA ranking (roughly about 700 at the bottom) at the beginning of this year to about top 180 by the end of this month of September after playing a few tournaments. I am really happy with the progress I have made in a short amount of time, and I am excited to see what's in store for me as I believe this is only the start.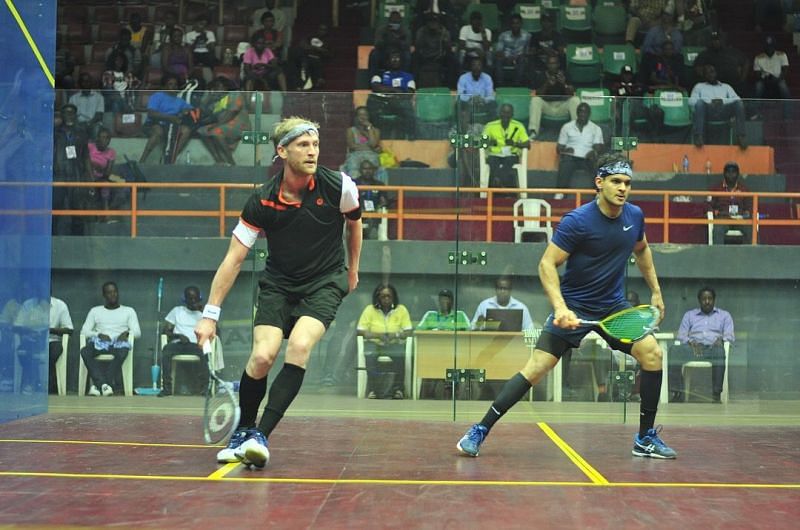 India has performed considerably well in the CWG and Asian Games 2018. What changes have you seen in the squash culture in India in the past few years?
Aadit: I have to say, squash in India has seen a great impetus in the past few years. Of course, Saurav Ghosal, Dipika Pallikal and Joshna Chinnapa have been at the forefront of Indian and international squash for several years now and continue to inspire me and junior players coming up. They are a true testament to what can be achieved through years of hard work and a resilient mentality and I am lucky enough to have seen their journey. The Indian team did great in the CWG and Asian games with both the Men's and Women's team clinching medals. That's a huge achievement for Indian squash and very promising for the future of our sport.
I believe SRFI (Squash Racket federation of India), and National coach, Cyrus Poncha are certainly moving in the right direction as they have been producing some top junior players in the recent years coming out of India. I haven't been in touch with Indian squash for a few years now as I have been based abroad for the past 10 years, but results speak for themselves and I would definitely say, India is certainly headed down the right path.
Who has been your role model? How has he/she contributed in your life?
Aadit: I would have to say great athletes like Michael Jordan, Lebron James, Cristiano Ronaldo, Michael Phelps are some of the people who have inspired me while growing up – they have achieved greatness and will live on as legends.
However, the two most important role models are my father and mother. First one being my dad, Shrenik Zaveri. He was a 4-time national champion 100-m butterfly swimmer in the junior and Men's category and the Indian water polo captain. He always made me believe that anything was possible in this life with unrelenting hard work and a positive mindset to better ourselves and dream and achieve big. He is a living example to me and I use that example to fuel myself everyday to get one step closer to my goals.
The second role model I would say is my mother, Vidya Zaveri. She is an extremely kind and loving person, and has inspired me in different ways than my father. She has shown me how to see the good in people in every situation. From her, I have learnt to love the people around me and always be a pillar of strength for them as she has been for me since the day I was born.
I would say I am really blessed and humbled to have them as my role models. They are my inspirations today and everyday. I would end this by saying, my father taught me how to hunt, my mother taught me how to love.
Do you see squash being a part of the Olympics in the near future?
Aadit: It would be the ultimate dream of mine and any athlete to compete at the Olympics, so I am going to be positive and say YES. Olympics are the holy grail for any athlete, and I would only hope that a sport that is so athletic, mentally and physically demanding and emotionally and strategically challenging can be in the Olympics.
The squash world might be slightly smaller than the other sports out there, but it probably has one of the most loyal player and fan base. I believe it is one of the most rapidly growing, entertaining and exciting sports to play and watch, and I can only hope that it will get the chance to be in one of the coming Olympics.
There are various young kids who are developing an interest in squash. What piece of advice would you like to give to them?
Aadit: I would say just go play and enjoy being on court hitting the ball around with your coach/friends. Squash is one of the only sports you can play through any season as it is played indoors. You can improve a whole lot on your own as you can hit the ball against a wall and don't necessarily need an opponent to train everyday as sometimes you do need so in other racket sports like tennis or badminton.
I would say, if you like the game of squash on a recreational level – it has several benefits. It will certainly keep you very fit and you will have great fun while playing. However, if you like the game on a competitive level, it will build a sincere amount of character, disciple, drive and also further your opportunities to gain a scholarship to a university in USA or UK in time for a further education as I was lucky enough to have.
Aadit's small note for the readers:
Coming back to Squash and professional sport after giving it up a few years ago was far from an easy decision. It comes with a severe amount of discipline, hard work and sacrifice. It was an entire 180 degree turn in my life. Being away from family and friends for long periods of time, early mornings, no more late nights and socializing, keeping a tight diet regime and an overall focus on the goals and dreams that lie ahead.
However, there is a great beauty in the struggle and once you start seeing results, the hard work and vision starts growing and becomes undeniable. I believe this is only the start for me and I am excited to see what the future holds.
Edited by Sundaresh Kumar