"Squash is still an elitist sport" - Professional Indian squash player Siddharth Suchde Interview
1.69K //
03 May 2013, 15:47 IST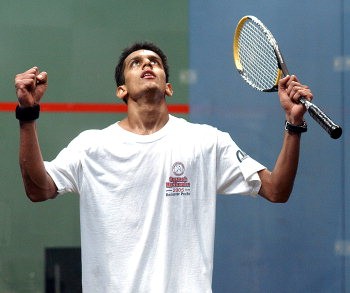 Siddharth Suchde is a professional squash player from India. He grew up in India, Scotland and Switzerland. He is one of the few sportspersons who even boasts of having a degree from Harvard University in Economics. He was a College National Champion in Squash. He was in conversation with Sportkseeda recently. Here are the excerpts:
Despite being one of the most popular indoor sports in the world, why aren't more people playing squash in India?
It's still an elitist sport, but the numbers have definitely gone up due to two reasons:
a) More availability of courts.
b) Indian players performing better than they ever have on the international circuit.
Do you believe glamour is important for squash to grow?
It helps but it's not essential. At the end of the day, it's like a business, you can't market any stuff (without glamour). Success is the most important attribute though. Look at badminton, it's not particularly glamorous, but the achievements of the Indian athletes mean that it's in the forefront of most sports publications. Glamour might take it to the next level but the foundation (of any sport's success) is the spectacular achievements of the athletes.
If squash does become a part of the 2020 Olympics, what do you think of India's chances?
I hope they will be very good. 7 years is a long time. There are some amazing youngsters coming through.
What do you think the federation should do to make squash part of the Olympics?
They've done a lot so far. This is by a long way, the most professional campaign run by squash to get into the Olympics. The vote is in 5 weeks I think, so everyone's keeping their fingers crossed. The hard works has been done and I'm sure everyone's eagerly anticipating the announcement.
What is your training schedule like?
I'm on a break, so would prefer not to answer this now.
How different is training in Leeds from India?
You have the very best players in the world to train with in Leeds. Unfortunately in India, that's not the case. It's much better than     it used to be but still a long way to go before we can recreate a world class training environment.
What has been your best achievement till date in squash?
A medal in the Asian Games and reaching 39th ranking in the world. (Either) one of the two.
What ranking do you aim to achieve by the end of this year?
Yet to decide.
Is solo practice beneficial?
It depends how you do it. The cliched answer is yes. It's practice at the end of the day.
You are a Harvard graduate. How tough was it to combine squash with studies?
I wasn't a professional when I studied. Unfortunately, the university did not allow it. I only joined the pro tour at 23. During my    college years, I played the intercollegiate scene which was great fun but it's definitely not as hard or competitive as playing professional squash. But overall, (I) never saw it as being tough because it's exactly what I wanted to do.
What do you see yourself doing after a squash career? Do you want to remain connected to the sport by taking up coaching?
No chance. I'll do something totally different.
What tournaments are lined up for you?
It's summer now, so at the moment I am enjoying my break.
What is this "liveyoursport" initiative of yours?
I promise you'll be the first to know when the time's right.