I am living my childhood dream: Saurabh Sangvekar
1.80K //
22 Mar 2012, 13:29 IST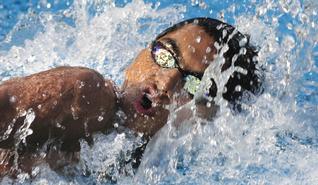 For Saurabh Sangvekar, the 17-year-old swimmer who recently clocked the invitational mark for London Olympics, the journey to fulfill his dreams began in 2010. During the National Junior Aquatic Championship held in Bangalore, national coach Pradeep S Kumar impressed with Saurabh's performance in 800m freestyle approached the young lad's father and insisted that Saurabh moved to Bangalore and train at Basavangudi Aquatic Centre (BAC), known to be the best training ground for budding swimmers in the country. Pradeep then had predicted that Saurabh's qualification for Olympics was a realistic goal.
But coming from a lower middle class family, if not for the Reach Foundation's support, funding for his training would have been a challenge for Saurabh's parents. Neelakanta Rao Jagdale, the man who initiated Reach Foundation and also the president of Karnataka Swimming Association, pitched to financially assist Saurabh's training on a condition that the Maharastra swimmer represents Karnataka hence forth.
The offer came as a golden opportunity for Saurabh who is originally from Thane, Maharastra. Since 2006, BAC was more like a summer home for Saurabh as he used to travel to Bangalore during vacations to train and hence changing loyalty from home state to Karnataka was not a difficult choice for him.
Since then, there has been no turning back for the young lad. He made the 'B' qualifying cut by clocking 15 minutes 34.67. The cut off mark was 15 minutes 43.74 seconds. Though clocking 'B' qualifying does not guarantee participation at the Olympics as FINA, the world governing body for swimming, is expected to restrict the number of participants to 900 and all those who have made the 'B' qualifying would have to wait for wild card entries; Saurabh is working on making the 'A' qualifying time and he believes he can achieve the target.
In an exclusive interview with Sportskeeda.com, the long distance sensation speaks candidly about his journey so far and his preparations for the big games. Excerpts:
Can you tell us how you developed an interest in swimming…
My house is in Kalva, Thane and there is a swimming pool exactly opposite to where I lived. My elder brother Aditya used to swim and I used to accompany my dad everyday to go watch my brother swim. I was studying in 1st standard when I started swimming and competed in my All-India Meet in 2006 and won two gold and three silver medals.
When you started swimming did you closely follow any swimmer in India and aspired to achieve like your idol?
Back then, I only knew Rehan Poncha (Beijing 2008 Olympics participant) and I had seen him swim a couple of types. He used to swim for Maharastra that time but I had never got an opportunity to speak to him. It was only after I moved to Bangalore and started training here, I got to talk to him and know him. Other wise, there is no such swimmer who I follow in India.
Since when did you start believing that making it to the Olympics was your only goal?
When I was in 5th standard, I remember watching Olympic swimming events on TV. It was only then that I became aware and could understand the magnitude of swimming in an Olympics event. I used to think how awesome it would be for me to participate in Olympics. In 2010, my dream of doing that got a boost. Pradeep sir spoke to my dad and said that I have the potential to make the Olympic qualifying and said that the Jagdale Foundation would fund my training. This came as a golden opportunity for me and my parents were very supportive of my decision to move here. It's been two and half years since I left home and I have not gone back even once.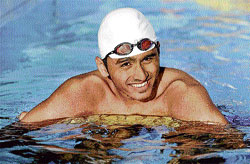 When your compatriots talk about you, they say that Saurabh trains like a maniac! How true is this?
(Laughs) I don't train like a maniac. I do know that some of them say I train like mad but I just do the same workout as everyone else who trains under Pradeep sir. There is nothing special in what I do.
For a swimmer who shifts from a different state, adapting to the national coach's workouts is not easy. What was it like for you?
I can still remember the first session in BAC. The workout was extremely tough. I somehow managed to finish the whole workout but I was dead by the end of it. The first one week was quite tough for me but I picked up gradually. Now I enjoy workouts like Long Distance and Anaerobic Threshold (AT) workouts.
You train for almost six hours a day and you are often left with little energy to do anything else. At 17, don't you miss doing what teenagers do? Like go out for movies and hangout with friends?
I do like going for movies and eating outside but right now I know this is my best chance to do well in swimming. With Olympics nearing, I have to take care of myself and I need to rest well. It's a conscious effort to not go out often.
In the past one year, you have slashed timing like no one can ever imagine. Do you think making the 'A' qualifying of 15:11 is possible?
In 2011 Junior nationals I had clocked 16:08. That same year at the Asian Age Group I clocked 15:59 and won a silver medal later in the Senior National I clocked 15:51 and broke the national and best Indian performance record. When I swam the Singapore meet where I qualified, I didn't think I would clock 15:34. I had told Pradeep sir that I can try clocking 15:35 but I swam a second faster than I promised. When I started swimming 1500m event, I never thought I could clock the timing that I am today. I am happy I could go 15:34 from 15:51. I know I can go faster. So, clocking 15:11 to make the 'A' qualifying should happen too. I will try and make it happen.