The unfortunate tale of an Arjuna awardee Venugopal Chandrasekhar
3.04K //
15 Nov 2014, 19:11 IST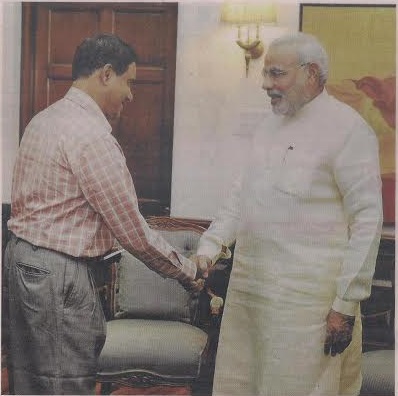 Not many people have heard about Venugopal Chandrasekhar. "When I won the Arjun Award in 1984, the prize money awarded was Rs.5000, now it is 1 lakh," Chandrasekhar said. That has not been the only change of fortunes for the former table tennis player. A mistake from a doctor of a famous hospital in Chennai cost him his career and paralysed him, but that didn't stop him from building a stadium for young table tennis players, a project he is passionately working on now.
Aspired to be a cricketer
Chandra, as he prefers to be called, wanted to become a cricketer like every other kid in India. But a head injury at a very young age meant that he would stick to table tennis. "My family thought I was benefited out of the injury since I started studying well and playing better table tennis. But they felt it would be safer for me to play table tennis," Chandra said.
When he decided that he would pursue table tennis seriously, he left to Japan for training. "I was one of the few lucky people to get selected and I had a lot of experience playing against players from different places. The discipline there is impeccable; there used to be pin drop silence when we were given instructions for practicing table tennis," he said.
It came to him as no surprise when he was selected to play for the World Championship in 1977 in Birmingham, thanks to the training he received in Japan. He reckons that as his turning point in his career.
Almost created a record in table tennis
"An the 1982 Commonwealth Championship in Bombay, I was leading 20-17 (at that time it was 21 points) against a Candian opponent Kosanovic, but I lost my way from there. If it had happened, I would have been the first person to win in the Commonwealth Championship."
He won the Sportsman of the Year Award in 1981 (Government of Tamilnadu) and the Lifetime Achievement Award in 1999 (Government of India).
An accident changed his life, again
Life took a U-turn after that for Chandra but he didn't give up despite there being no fault of his. "I have accepted that I am a handicap, in modern day you call it challenged. It's a challenge and I am ready to face it," he said.
He says he is thankful to his family who have supported him despite the problems he has faced. Chandra now works in the State Bank of India (LCPC branch, Chennai) and is grateful to the bank for their kindness.
"The bank looks after me very well. They do not give me any transfers and there is reimbursements of medical bills. That is one way of looking at it and the other way is that I have earned the name for the bank," he said. He has written in detail about about his struggle in his autobiography 'My Fightback from Death's Door'.
Helping youngsters achieve their dreams
Today, Chandra is excited about the stadium that he is building in Chennai for young Sports aspirants. "The land was given to me long back by the Tamilnadu government and I feel extremely lucky to get the land in possession. They have been very supportive too and helped me with the same," he said.
"I approached the Prime Minister recently, who spoke to me extensively and sent a team to inspect the stadium. I believe they have submitted a very good report and I am hoping for world class facilities in my centre," he said.
For now, he is giving a little more importance to Table Tennis, but as the stadium develops, he plans to include chess, karate and other Indian sports. "With the increase in the number of leagues in India, I am hoping there will be more and more sportspersons from Sports other than cricket, bringing in laurels for the country. Getting into Sports today is a very good option for any youngster since the rewards and awards that it yields is good," he said.
For a man who has seen so much in life, Chandra has taken a huge step to help youngsters so that they can achieve what he couldn't. "Sports is a thing worth pursuing and I want to contribute in a way I can," he said.