Wrestling has been one of India's strongest sports traditionally, and Indian wrestlers have been making a name in the sport in the last decade, winning the country medals at the Olympics in both 2008 and 2012.
The 2016 Rio Olympics will feature a five-member strong Indian contingent in the men's section. Though two-time Olympic medallist Sushil Kumar won't be part of the team, the wrestlers going to Brazil have shown through their past performances that they are more than capable of winning medals.
From akhadas in the countryside to mainstream tournaments, including a Professional Wrestling League, the sport has come a long way. We take a look at the 5 wrestlers part of India's men's contingent at Rio 2016 –
Narsingh Yadav (74 kg)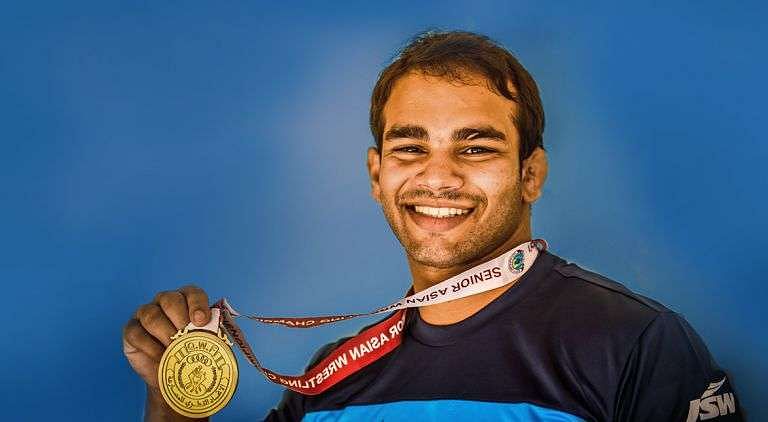 The Mumbai-born grappler has faced a baptism of fire going into Rio 2016, having had to overcome a series of issues to take his hard-earned spot.
Having qualified for the 74 kg category at the Olympics, Narsingh's place was under threat from the hero of the previous two Olympics, Sushil Kumar, who was also looking to participate in the 74 kg category. The Wrestling Federation of India (WFI) ruled in Yadav's favour, picking him to represent India at Rio 2016.
Following that, a doping scandal emerged, stating Yadav had tested positive for a banned substance, putting his place at the Olympics in danger. However, he was then cleared of all charges as he was a victim of sabotage, clearing his path to go to the Olympics.
Having won Bronze at the World Wrestling Championships in 2015 and Gold at the Commonwealth Games in 2010, the JSW Sports Excellence Program wrestler will be a prime medal candidate at Rio 2016. He has overcome a lot of hurdles to be able to represent the nation at the biggest stage.
The only wrestler to stay unbeaten at the 2015 Pro-Wrestling League, he will surely give his all to win a medal for the country.
Hardeep Singh (98 kg)
One of the two Greco-Roman wrestlers to be part of India's Olympic contingent, Hardeep Singh has surprised everyone with his consistency and skill. Part of the JSW Sports Excellence Program, Hardeep is a powerful grappler who can mix it with the best in the world.
He qualfied for the Olympics by finishing second in the Asian Wrestling Olympic Qualification Tournament. Singh had earlier won Silver at the 2016 Asian Wrestling Championships in the98 kg weight category.
An impressive point to note about Hardeep's career is that he switched to Greco-Roman from Freestyle only in 2009, at the age of 19.
India's first wrestler to qualify in the Greco-Roman discipline at the Olympics since 2004, Hardeep is a darkhorse at Rio and will be counting on surprising his opponents with his strength and endurance.
Ravinder Khatri (85 kg)
The other Greco-Roman wrestler representing India at the 2016 Olympics in Brazil will be Ravinder Khatri, in the 85 kg weight category.
Having had to overcome a lot of financial difficulties to make it thus far, the grappler qualified for Rio 2016 after finishing 3rd at the Asian Olympic qualifiers. With only the top two making it to Brazil, it looked like his chance had gone.
However, he qualified after the silver medallist was found guilty of using a banned substance, disqualifying him immediately. Khatri will be looking to use this bit of fortune to his advantage as he goes all-out against his opponents in Rio.
Having missed qualifying for London 2012 by just two points, it is clear to say that he understands how fine the margins are, and will look to grab this opportunity with both hands as he looks to get India a medal.
Sandeep Tomar (57 kg)
Sandeep Tomar qualified for the Olympics in style, winning Bronze at the World Olympic Qualifying Tournament in April 2016. Born in 1992, the wrestler showed he could perform at the highest level first in 2012, winning Gold at the National Championships in the 55 kg category.
From there, his game grew by leaps and bounds, as he continued his brilliant performances. He won Gold at the Commonwealth Wrestling Championships in 2013.
He works for the Indian Navy and won Gold at the 2014 Military World Games. Sponsored by the JSW Sports Excellence Program, Tomar won Gold at the 2016 Asian Wrestling Championships and then secured his berth at Rio 2016.
An intelligent wrestler, he will look to use his agility and quick-thinking to surprise his opponents and win a medal for India.
Yogeshwar Dutt (65 kg)
Bronze medallist at London 2012, Dutt is India's best chance of a medal in men's wrestling at Rio 2016. He announced himself as one of India's best wrestling talents at the 2003 Commonwealth Games, winning Gold.
A man who always gives the sport his all, his indomitable spirit was seen at the 2006 Asian Games, when he won Bronze in the 60 kg category, despite having lost his father just 9 days prior to the Games.
Using the repechage rounds, Dutt fought his way to a Bronze at the 2012 Olympics in London, establishing himself as one of the top wrestlers in the world.
At the age of 33, he is India's most experienced wrestler in Brazil, and will look to use his wide range of moves and agility against stronger opponents.