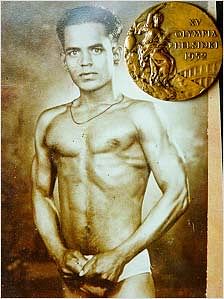 "At the end of the day it is performances which matter, the rest is just drama", quipped Abhinav Bindra in a typical forthright response to a query on whether the sports players enjoy the glamour and limelight of their celebrity status. Bindra's individual gold medal at the 2008 Beijing Olympics brought a lot of cheer to the country and immediately propelled him into stardom.
However, we need to flash back to 1952, 30 years before Bindra was even born, when an unknown and unheralded wrestler from Goleshwar village in Maharashtra won the bronze medal in 52kg bantamweight class freestyle wrestling at Helsinki Olympics and thus became the first individual from independent India to win an Olympic medal. Compared to the media attention that India's recent Olympic medallists received, it was just his fellow villagers who greeted him with a cavalcade of 151 bullock carts, which went in a procession from Karad to his village.
Born on January 15, 1926 in Goleshwar village of Satara district Khashaba Dadasaheb Jadhav grew up in a family of wrestlers, and his grandfather Nanasaheb and his father Dadasaheb were accomplished at the sport. He was initiated into wrestling by his father, who was also a wrestling coach, at a tender of five years, and he also participated in the sports of weightlifting, gymnastics, swimming, hammer throw and Malkhamb. But he found his true calling in wrestling.
As a child, Jadhav would often travel to neighbouring villages to see wrestling matches held in fairs. At the age of eight, he won his first wrestling bout in just two minute against a local champion wrestler. He went on to hone his wrestling skills at Tilak College under the tutelage of Belapure Guruji and Baburao Balawade, but also did not neglect his academics. Jadhav also participated in the 1942 Quit India Movement, as he provided shelter to the revolutionaries and circulated letters against the British.
He began a career in wrestling in 1948 and earned laurels in inter-college and inter-university events while he was studying at Rajaram College, Kolhapur. He achieved success at the national level as well, and qualified to participate in the 1948 London Olympics.
At a time when there was no proper sports administration setup in the country, and no presence of sponsors, Jadhav struggled to collect money to fund his trip to London. The Maharaja of Kohlapur and his local villagers stepped in to sponsor the trip and Jadhav didn't let down his backers as he finished a creditable sixth in the 52kg flyweight category. Considering that the event involved wrestling on mat, which was unheard at that point of time in India made the achievement more commendable. Jadhav had admirably made a successful transition from barefoot wrestling in mud-floored akhadas to wrestling wearing boots in an indoor stadium.
Instead of getting discouraged on losing out on a medal, Jadhav began intense preparation for the next edition of Olympics after returning home from London. However, he still faced a cash crunch, and the Indian Government didn't extend any support to him. After he qualified for the 1952 Helsinki Olympics, his college principal Khardikar mortgaged his house for Rs 7000 to send his student to Finland for the Games.
Participating in the bantamweight category which had representatives from 24 nations, Jadhav defeated wresters from Mexico, Canada and Germany as he went to win the bronze medal on July 24, 1952 thereby creating history. The very fact that India went without an individual Olympic medal for 44 years after his feat at Helsinki speaks volumes of Jadhav's achievement.
The first thing that Jadhav did on his return to India from Helsinki was to participate in a wrestling bout, and the proceeds of the event were used to release Principal Khardikar's house from mortgage. A modest Jadhav put his medal at the feet of his mentor.
Jadhav was received by his villagers with much fanfare, which was described by his cousin Sampat Rao Jadhav as "There were dhols along with a 151 bullock cart procession right from the outskirts of Goleshwar to the Mahadeva temple which is normally a 15 minute walk. It took seven long hours that day and no one was complaining. We have not seen joyous scenes like that either before or after that day. There was a feeling of pride and every villager was basking in that moment of glory. Khashababhau brought the small village of Goleshwar, earlier a dot on the map, to the fore. The whole world knew and recognised Goleshwar as the village which gave India its first-ever Olympic champion."
Jadhav was however severely critical of the officials and coaches who travelled with him to Helsinki and said "They were more interested in shopping and visiting the casinos." The Government did little to reward him for his achievement, and apart from pride and recognition, Jadhav received little. Even though he was a competent coach, his services were scantily utilized, despite him showing interest in the role.
Jadhav joined the police force as a sub-inspector in 1955 and the following 22 years saw him working without any promotion. Despite repeated requests, he was never given his due. Finally, after pressure from his colleagues, he was appointed assistant commissioner of police in 1982, and he served out the remainder of his service in the role before retiring.
Jadhav died in a tragic motorcycle accident in 1984, and his wife struggled to get any assistance from any quarter. Incidentally, Jadhav had been struggling to get his pension funds released and the construction of a small house that he was getting built kept being delayed. Sadly, the house, which was named "Olympic Niwas" could not be ready in time for Jadhav to move in.
Despite Jadhav's achievements, it took years of lobbying to get official recognition for him. The Maharashtra Government awarded the Chhatrapati Puraskar posthumously to Jadhav in 1992-93 and the Indian Government took almost 50 years after his Olympic glory to finally award the Arjuna Award to him. The newly-built wrestling venue for the 2010 Delhi Commonwealth Games was named after him to honour his achievements.
As Abhinav Bindra put it that anything apart from the performances is just a drama, but for India to create new champions, it has to celebrate its present and past champions. While it is heartening to see that the players achieving Olympics success in recent times has been rewarded suitably, Khashaba Jadhav's story is of a man, who despite his guts and glory, which will go down as a tragedy in the chronicles of sport in India.
(Picture courtesy: kushtiwrestling.blogspot.in)
---