What's the story?
According to various media reports, the world's top MMA promotion removed almost 32 fighters from its roster this past friday. The most popular fighter in the long list of sacked fighters is WWE superstar, Brock Lesnar. Many other fan-favorites such as Miesha Tate, Urijah Faber and Antonio Silva have also been removed.
However, Tate, Faber and Silva's removal was long expected since two of them retired, whereas Silva is currently fighting in Russia.
In case you didn't know...
Brock Lesnar has an MMA record of 5-3 with 1 fight being a no contest. The former UFC Heavyweight Champion last faced Mark "The Super Samoan" Hunt at UFC 200. He won the fight via unanimous decision. However, Lesnar was later flagged by USADA for doping.
Thus, the result of the fight was overturned to a no contest. He has since been handed a one-year suspension from MMA by USADA.
The heart of the matter
Ever since Lesnar's suspension from MMA, it has been anticipated that he would be removed from the UFC roster. However, there have been some other much more shocking removals such as the removal of Sean Santella, a fighter who didn't even once get the opportunity to fight inside the octagon. Another surprising inclusion in the list of fighters that were released is Misha Cirkunov, an up-and-coming Light Heavyweight prospect.
What next?
The WWE superstar's MMA career surely looks to be over. By the time his suspension ends, he will be 40 and thus he might choose to resist the temptation of getting back inside the octagon. He is currently under contract with the WWE and is scheduled to face Goldberg at Wrestlemania 33.
Sportskeeda's Take
Brock Lesnar fought inside the octagon for the first time in almost 5 years. His deal to fight at UFC 200 was a "one off", where he was only supposed to return to the UFC for a single fight. It now looks like that would be his last for the promotion.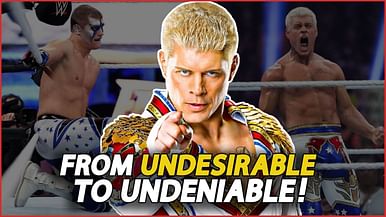 How Cody Rhodes returned to WWE and change pro wrestling forever!