Alistair Overeem's debut fight in the UFC was against the former UFC Heavyweight champion of the world, Brock Lesnar. Overeem proceeded to turn quite a few heads when he defeated, and retired Brock Lesnar from Mixed Martial Arts! Since then Overeem had suffered back – to – back losses, but has managed to get back to winning ways after he defeated the former UFC Heavyweight champion, Frank Mir at UFC 169 earlier this year.
Overeem is scheduled to fight Ben Rothwell next at UFC Fight Night 50 on September 5th, and my colleague Ratish Menon and I managed to catch up with the former Strikeforce Heavyweight champion for an interview, to get his thoughts on his next fight and his MMA career. Below is an excerpt from the interview.
AG: After your debut in the UFC, when you knocked out Brock Lesnar, you were touted as the next name for heavyweight title contender ship. However, a couple of losses to Bigfoot Silva & Travis Browne seemingly derailed the Overeem train heading to the UFC HW championship. Is the title a goal of yours and how many wins away do you think you are from getting a crack at it?
AO: Well, I would like to think that I am on that track now. I have recently moved to New Mexico and have been training with the likes of Jon Jones, Travis Browne, Andrei Arlovski…even Frank Mir comes to that gym. So I think my route to the title has already started and I am probably 2 wins away from a title shot.
RM: Your rivalry with Junior Dos Santos has been in the making for over 2 years now and a bout between the 2 most premier strikers in the UFC HW division is a hotly anticipated one. He being the gatekeeper for the title shot, do you have any interest in a match-up with him?
AO: Definitely. It's going to happen I feel. But first, I just got scheduled with Ben Rothwell, so my focus is on him right now.
RM: Your losses were attributed to your moving away from the Golden Glory camp and even your battle with maintaining correct Testosterone-to-Epitestosterone T/E levels by many in the media, including one of your original trainers Bas Rutten. What was going on in your mind at that time when you had those back-to-back losses?
AO: I do think that my losses were contributed to by my team at that time, because you need to have good sparring partners, good coaches that take care of the direction of the fight, the overall training regimen. I do think that was lacking in the 2 losses. But then again, it is sports and as you saw with Spain, who were world champions twice and we (Netherlands) destroyed them completely and couldn't even get through to the finals. But that's what happens, you are on a winning streak and then people change, teams change, people get better, new opponents arise and I did drop the ball a few times because you are condemned to do that. But everyone can be assured that I am always working hard, always training hard, put together the right team behind me and I do feel that a new title reign is coming soon for me.
AG: With the upcoming fight with Ben Rothwell being a part of the Fight Night card instead of a PPV, do you think it is a step down after beating someone like Frank Mir, who is a legend in the sport?
AO: I see that as a step up as the fight will be broadcast on FOX and there will be more viewers than a PPV, so I think that it is a step up as it reaches a broader audience. Plus, it really is a UFC decision to make and I am not really interested in the dynamics of it.
RM: After your fight with Mir at UFC 169, you called out Brock Lesnar. Do you think there is some unfinished business between you two? If, and this is a big if, everything worked out and Lesnar returns to the UFC next year, would you be willing to fight him again?
AO: Yes, I expressed that after my bout with Frank Mir. I do believe that Brock Lesnar will be coming back, I don't want to call it from retirement, but he is a huge draw, big guy, sells tickets. So that's a fight I would be interested in.
You can listen to the entire conversation here. Be sure to follow Alistair on Twitter, Facebook and Instagram, as we wait and see if he manages to claw his way back to title contention in a month's time.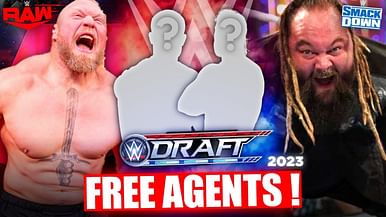 Brock Lesnar and 10 WWE stasr who are FREE AGENTS