Understanding the False 9 - Do Chelsea fit the bill?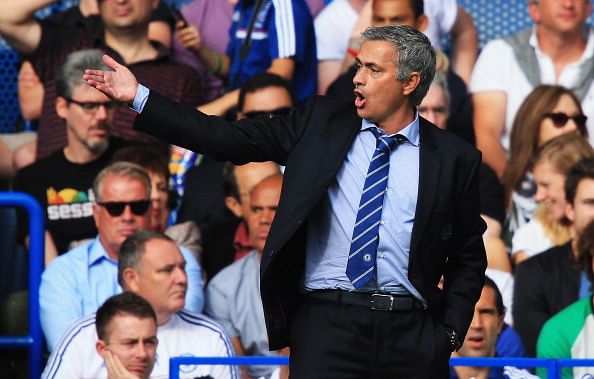 So if the False 9 is such a devastating tactic, one wonders why it isn't employed often by top European sides in the modern game. The truth is that the requisites for playing such a tactic require numerous aspects – a player with outstanding technical attributes who is versatile enough to play as a false 9, a midfield which can retain possession using short passes and a defensive midfielder capable of slotting in at centre back to allow the wide men and full backs to push forward.
Spain and Barcelona have both employed this tactic as they possess all the aforementioned characteristics – Xavi and Iniesta's almost telepathic short passing, Sergio Busquets tackling and winning back possession in front of the back 4 (he can also play at centre back) and Cesc Fabregas acting as the False 9, both for the Catalans and the national side.
Interestingly, another top European side which fits into this scheme of things (but does not play the tactic) is Chelsea. The Blues are known to break at speed which is, as mentioned above, one of the characteristic features of a false 9 tactic, and also possess the personnel to execute such a plan. Chelsea employ a 4-2-3-1 formation, and interestingly in the first two matches this season, almost all goals have come from the midfield (except Ivanovic's header and Antonio Luna's own goal.)
Chelsea's average pass length this season has been around the 18-metre mark, which is similar to the Spanish national side's average of around 20 metres. Chelsea's Juan Mata is known to be a technically exceptional player, and can also play as a centre forward, which makes him a contender for the false 9 position. Also, considering the spectacularly quick wingers available to Chelsea, Eden Hazard and Kevin De Bruyne could exploit any space created by Mata's movement, and as we have seen the past season, Mata has more than the required skill to play the killer pass.
Down to centre midfield, Ramires might not look like the best bet to fit the defensive midfielder's role, but David Luiz surely does. Considering Luiz is a centre back, he could easily slot alongside the two centre backs, to allow Ivanovic/Cole/Azpilicueta to push ahead in a bid to give the formation an added attacking impetus.  The new recruit in their ranks, Dutch midfielder Marco Van Ginkel, can also play in that defensive midfield position, as he possesses the composure and passing range to move the ball around in a six-man midfield. Interestingly, Jose Mourinho's other recruit, German winger Andre Schurrle, also likes to drop deep to collect the ball, and like Eto'o at Barcelona can easily operate on the wing or at centre forward.
Although it seems like an enticing proposition, there are a few hurdles to playing the False 9 at the Bridge. Romelu Lukaku's strength and finishing prowess would find no place in the formation, as the Belgian lacks the finesse required to play at such a tactically astute position. Fernando Torres seems (on paper) a better bet in the formation, but Torres has received constant criticism for lacking the ability to play with his back to goal, which in turn raises doubts about his ability to conform to the requirements of a false 9.  Past experience too wouldn't be such a pleasant reminder, as Roberto Di Matteo's decision to play Eden Hazard at centre forward backfired horribly against Juventus at Turin, as Juve ran out 3-0 winners when their tight defensive line and swift counters completely outwitted the Blues.
That said, Jose Mourinho is a man of surprises and ruling out the possibility would be unwise. Considering Chelsea have the men to play it, will Jose take the risk of finding the strategy that Roman Abrahimovic has repeatedly hired and fired to find? The season is only two games old, but the option is there to be explored. If it does work, Chelsea's side could truly match the attacking antics of some of the finest Champions League winning sides of this decade.
But the decision, as always, is the Special One's to make.