Tony Khan appeared on AEW Dynamite on April 5th, 2023, and dropped a piece of gigantic news on viewers and fans.
As per the president, AEW is bringing back the All In PPV, and it's scheduled for August 27th, 2023, at Wembley Stadium in London, United Kingdom. Now, a few things about this announcement potentially point towards Tony Khan's attempt to bring the largest pro-wrestling PPV to the fans!
During the announcement, it was Adam Cole who revealed that AEW All In would celebrate 100 years of the historic Wembley Stadium with AEW fans in London. This essentially means that Tony Khan is predicting a massive sell-out of tickets for the event. If that happens, AEW All In will be pro wrestling's largest PPV.
So, here are some of the numbers that show how ALL IN could become the largest PPV.
First, Wembley Stadium's capacity is 90,000. This is a huge number! If only a seating capacity of 90,000 is sold, it still defeats WWE's most successful event: WrestleMania 39.
WrestleMania 39 (2023) was held at SoFi stadium, which has a capacity of a little over 70,000. WWE witnessed 80,497 fans on Day 1 and 81,395 on Day 2.
Let's assume that the reason WWE couldn't come close to 90,000 is due to the SoFi stadium's limited capacity. However, WWE did host SummerSlam 92 at Wembley Stadium and witnessed an attendance of 80,355 fans.
These numbers show that even without considering any other factors if All Elite Wrestling and Tony Khan can sell the entire seating capacity, it'll be able to make All In the biggest pro-wrestling PPV in recent memory.
Now, back in 2018, when Cody Rhodes and The Young Bucks brought All In to the audience, they didn't expect the tickets to be sold out, but they did. Wrestling fans loved the idea of having all the top names from various promotions under one roof while competing at the same PPV. Tony Khan is hosting All In at a much bigger stadium, and their fans have only gotten bigger with time.
---
AEW All In is a massive jump compared to other PPVs
All Elite Wrestling has four major PPVs lined up every year:
Double or Nothing
Revolution
All Out
AEW X NJPW: Forbidden Door
Keeping its establishment in 2019 in mind, as of now, the company's largest attendance was at New York City's Arthur Ashe Stadium for the Dynamite Grand Slam 2021. The number was recorded at 20,177 fans.
Apart from that, here are the numbers from All Elite Wrestling's PPVs in 2022:
Double or Nothing: 14,459
Revolution: 8,359
All Out: 10,014
Forbidden Door: 16,529
The jump to 90,000 fans is extremely big, but Tony Khan seems rather confident, considering he chose Wembley Stadium as the venue. The highest number recorded at Wembley Stadium for a sporting event was in 2022 during Tyson Fury vs Dillian Whyte, with 94,000 in attendance.
The highest attendance for a non-sporting event in the stadium was at Ed Sheeran's concert, which witnessed 100,000 fans.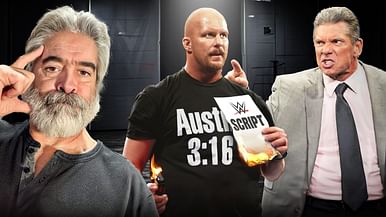 How Stone Cold was born in 2 minutes