AEW President Tony Khan has been pulling some serious overtime for a while now. A wrestling veteran believes that he should make a WWE Hall of Famer his right-hand man to relieve some of his burden.
Tony Khan is an extremely busy man. In fact, he was seemingly pulling a Vince McMahon-esque schedule even before AEW was founded, as the 40-year-old was (and still is) the Chief Football Strategy Officer for the NFL's Jacksonville Jaguars and the Director of Football Operations for the Premier League's Fulham F.C.
Over the last few years, many fans and wrestling insiders have opined that Khan should delegate some of his responsibilities to experienced hands in the company. WCW veteran Disco Inferno believes that the AEW President should put his faith in industry legend Jeff Jarrett. Speaking on Keepin' It 100, Disco called the WWE Hall of Famer "brilliant:"
"I would've made Jeff my right-hand man," Disco said. "Everybody always says, 'Well Jeff's out for himself as a talent,' he likes to get himself over. But for a guy that knows what's going on, he's brilliant. I am shocked that he's not using him in that capacity, Tony would learn so much more."
Former wrestler and commentator Hugo Savinovich agreed, stating that AEW has too many people in charge who don't know what they're doing. He believes that Khan should lean on legends like Jeff Jarrett, Arn Anderson, and Jake "The Snake" Roberts:
"With Tony, he has something incredible right now," Savinovich said. "This is when you know you need to go to the nitty gritty and listen to some people like you said, to Jeff or Arn [Anderson] or Jake [Roberts] or whatever. I think right now the problem is there's too many people that think they know what the heck they're doing and they're not." [h/t Wrestling Inc]
---
Tony Khan comments on WWE-UFC merger
WWE's recent merger with UFC parent company Endeavor to form TKO Group Holdings has shaken the foundations of both the wrestling and MMA industries. AEW President Tony Khan recently gave his thoughts on the merger.
Speaking with Insider, Khan called the transaction "fascinating," claiming that he'll be interested to see how it affects the landscape of both sports:
"It is fascinating. It will be interesting to see what happens in the world of sports, combat sports, and pro wrestling. I love pro wrestling, it's an amazing business. I think there are a lot of really exciting things happening with sports media rights."
---
Do you think Tony Khan should make Jeff Jarrett his right-hand man? Let us know your thoughts in the comments section below!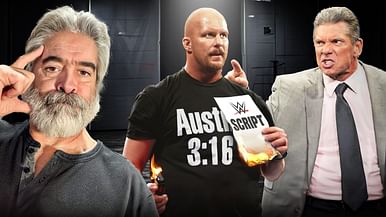 How Stone Cold was born in 2 minutes