Jungle Boy Jack Perry has fully embraced his heel side. Tonight on Dynamite, he came out to address his actions after he turned on Hook last Sunday at Forbidden Door. Perry came out to his usual theme song, but this time wearing shades and a more aggressive demeanor.
He faced Sanada last Sunday at Forbidden Door for the IWGP World Championship, with Hook at ringside to support him. Despite the effort, the NJPW star defended his title, leaving Jungle Boy dismayed. Frustrations ended up boiling over, and this led to Perry attacking Hook on the ramp.
Jungle Boy began his first heel promo reflecting on his actions over the weekend. He showed no remorse for this and even insinuated that this was long warranted, and Hook brought it upon himself. He went on to talk about his real-life girlfriend, Anna Jay A.S.
"I'm still banging the hottest b*tch in the entire place," said Perry.
After the promo, Hook came out to confront him, and this led to a chase around the arena, with Jack Perry running from Taz's son.
With this not being over in the slightest, how would you want the two to settle their grudge against one another? Let us know your ideas in the comments section below.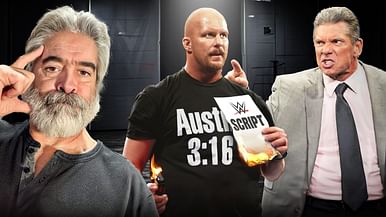 How Stone Cold was born in 2 minutes