Recently, a major AEW star has thrown his hat into the ring, expressing his desire to retire none other than WWE Hall of Famer, Goldberg.
The wrestler in question is none other than Swerve Strickland, a rising star on the AEW roster. Goldberg is currently a free agent, having let his WWE contract expire at the end of 2022. This has led to rampant speculation about what the future holds for the former WCW champion.
AEW star Swerve Strickland took to Twitter earlier today to respond to a tweet about the WWE Hall of Famer wanting a retirement match. Strickland's response was simple.
"Give em to me," he tweeted.
Check out his tweet below:
Regardless of whether Goldberg accepts Strickland's challenge, his next move is sure to be closely watched by fans and industry insiders.
As a free agent, the former WCW champion is free to sign with any wrestling promotion he chooses, meaning he might appear in AEW, WWE, or even a lesser-known promotion.
---
AEW President Tony Khan is paying close attention to WWE legend Goldberg's free-agent status
In an interview with The Bet Las Vegas & The Sporting Tribune, Khan expressed his admiration for Goldberg and acknowledged that his status as a free agent is something that he is paying close attention to.
"He's a household name in pro wrestling and certainly, that's interesting to hear that he is a free agent. It's something to follow, and he's one of the biggest names in wrestling and certainly will be something else to keep an eye on for us. Bill is an exceptionally exciting name and one of the biggest names in the sport. Certainly, it's a big thing for us to pay attention to. I would take notice of that and it is interesting," Khan said.
It remains to be seen whether Goldberg will move to the Jacksonville-based promotion or another promotion.
Who would you like to see Goldberg face in his retirement match? Sound off in the comments.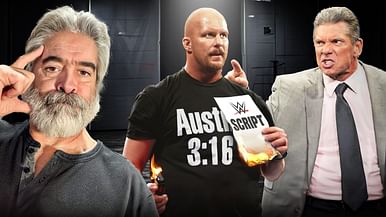 How Stone Cold was born in 2 minutes