Former WWE star Frankie Kazarian has stirred up a storm on Twitter after revealing that leaving AEW was the best decision he ever made.
Kazarian, who had two years remaining on his contract, shocked fans when he announced his departure from AEW last year, citing ideological differences as the main reason for his decision. As one of the original members of All Elite Wrestling since its inception in 2019, Kazarian played a vital role in getting AEW to where it is today.
The news of Kazarian's comments about leaving AEW has ignited a flurry of reactions on Twitter. Some fans have drawn connections between this decision and his past release from WWE, suggesting that Vince McMahon may have been correct in letting him go.
Some fans have speculated that Kazarian's exit coincided with the arrival of CM Punk and speculated that it may have caused turmoil in the locker room.
Check out the reactions below:
Kazarian has since landed himself in IMPACT Wrestling. This is his third stint with the company. The star was with WWE in 2005 but left due to differences in booking and the non-revival of the cruiserweight division.
Kazarian is a highly talented wrestler and has been at the top of his game for several years. His Elite Hunter gimmick in All Elite Wrestling gave him a lot of popularity.
---
What did former WWE star Frankie Kazarian say about leaving AEW?
Former WWE star Frankie Kazarian has made headlines by re-signing with IMPACT Wrestling after his departure from AEW earlier this year.
In an interview with Eric Bischoff on AdFreeShows.com, Kazarian expressed his desire to have his time and talent valued. He felt that his contributions were not being fully recognized in AEW.
"I wanted to give that time to somebody that would value it. I felt at the time in AEW, my time, my contributions, and my talent was not being valued and that's okay because I had the opportunity to take my time and give it to somebody else and that's exactly what I did," Kazarian said.
He also added that he did not want to sit on the bench.
"I'm not a guy that's wired to sit on the bench, you know? I'm a guy that should be in the starting lineup. It's not being egotistical to say that because it's true and I proved that."
Now back with IMPACT Wrestling, Kazarian has the opportunity to showcase his skills and be valued for his contributions once again.
What are your thoughts on Frankie Kazarian's comments? Sound off your reactions below.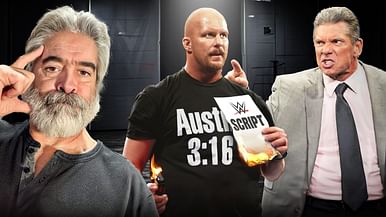 How Stone Cold was born in 2 minutes