Tony Khan began AEW back in 2019. Since then, the company has utilized several talents who have made a name for themselves in various other promotions. But at the same time, the Jacksonville-based promotion has also been the place where a handful of stars rose to stardom. One such name is Anthony Bowens. Bowens recently shared the story behind why he never signed with WWE.
Bowens made his debut for the promotion back in 2021. He kicked off his career in Dark. He started as a singles competitor and later found a tag team partner in Max Caster. Together, they formed The Acclaimed. They soon became fan favorites and are currently the reigning AEW World Tag Team Champions.
During the latest episode of Insight with Chris Van Vliet, the special guest Anthony Bowens shared the story behind why he did not sign with WWE. The tag team champion mentioned that he did try out for the promotion along with the current RAW Women's Champion Bianca Belair, but was unable to make the cut on the first attempt.
"I had a tryout with them in 2015 at the Arnold Classic, did well enough there, they invited myself and Bianca (Belair) to the performance center, we did a full one there, they told me, 'not right now, keep in touch', I kept in touch," Anthony Bowens said. [00:18 - 00:35]
Anthony Bowens then revealed that he did get a call from WWE once again. Unfortunately, the deal fell through as the company mentioned that due to budget cuts, they would not be able to sign him at this time, but the AEW star was not convinced by the reason.
"Randomly in 2017, I got hit up, 'hey… we're looking to bring you in 2018.' So, I started preparing... Only thing I needed was the contract and it never came. And I would check in every six months... and then… 'budget issues, there's no room.' I was like, 'how is there no room? You'd just hired 50 people, there's clearly room.' But they ghosted me really for three years." [00:35 - 01:08]
Anthony Bowens shared why he signed with AEW over WWE
While speaking in the same interview, The Acclaimed member revealed how the conversation with Tony Khan went prior to him officially signing the contract. He mentioned that the discussions went well, and he preferred to sign with the Jacksonville-based promotion over WWE as he liked the plans Khan had for him.
"In that time frame, Tony (Khan) found out and he wanted me to go meet with him... spoke to Tony... I liked the opportunity that he was giving us, and combine that with everything I talked about with the locker room and truthfully I had a family emergency at the time and it kind of made me realize I didn't want to move to Orlando at that point in my life. So, everything was telling me I needed to go to AEW." [01:28 - 02:11]
The Acclaimed are set to be part of a 'Family Therapy' session on this upcoming episode of AEW Dynamite.
Do you think Bowens would have faired well in WWE? Share your thoughts in the comments section below.
---
Please credit Insight with Chris Van Vliet and give a H/T to Sportskeeda when you use any quotes from this article.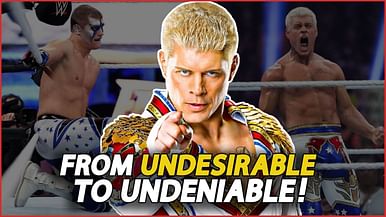 How Cody Rhodes returned to WWE and change pro wrestling forever!
Edited by Jayakrishna Dasappan