AEW star Eddie Kingston has been having the time of his life over the past few weeks as he has been wrestling in Japan, but the pinnacle of his journey has taken place and was documented by cameras.
For those who don't know Eddie as a person, his favorite period of wrestling was the 'King's Road' era of All Japan Pro Wrestling, which has been regarded as one of the greatest periods in the history of pro wrestling.
The era was spearheaded by the 'Four Pillars of Heaven,' which comprised Akira Taue, Kenta Kobashi, Mitsuharu Misawa, and Eddie's personal favorite, Toshiaki Kawada. During his travels across Japan, Kingston finally got to meet Kawda in a wholesome moment that was captured by the NJPW cameras.
Eddie Kingston, clearly overwhelmed with emotion at the site of his hero, explained to 'Dangerous K' that his favorite match of all time was the match between Kawada and Misawa from June 3rd, 1994, and that he has watched many matches from AJPW to help improve him as a wrestler.
Since Kawada spoke very little English, the translator helped point out that the black and yellow gear that Eddie wears in his matches is a direct reference to the gear Kawada wore in his prime. Kawada clearly noticed that Kingston was a huge fan of wrestling as he pointed out that he was wearing a Bruiser Brody t-shirt.
The moment ends with the two shaking hands and posing for a picture, and if you want to watch the full video, you can view it here:
Eddie Kingston's G1 Climax came to an end earlier today
The main reason why Eddie Kingston has been in Japan for the past few weeks is that he has been representing AEW in the 2023 G1 Climax tournament, the annual round-robin tournament NJPW hosts that ultimately determines who will main event the following year's Wrestle Kingdom event at the Tokyo Dome.
Kingston went into Day 15 of the tournament with a record of four wins and two losses and was eligible to qualify for the playoffs going into his final match of the tournament against Bullet Club leader David Finlay.
However, Eddie's tournament came to an end as he was defeated by Finlay, who took his own record to five wins and two losses, securing himself a spot in the play-off round, while Kingston will have to settle for fourth place in his block.
Have you enjoyed Eddie Kingston's run in the G1 this year? Let us know in the comments section below!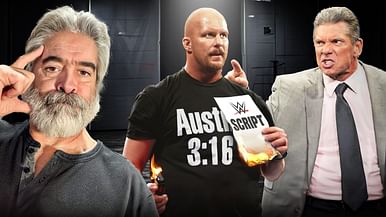 How Stone Cold was born in 2 minutes