Former WWE Universal Champion, Goldberg, provided an update regarding a possible AEW appearance in the future, while also mentioning CM Punk's release.
Bill Goldberg still remains a free agent in the wrestling business ever since his contract with WWE ran out earlier this year and no new deal was finalized. For the past few months, speculation regarding the former WCW Champion signing with AEW has been circulating within the wrestling community.
A recent report has given more insight on his status as a free agent. In the latest edition of the Wrestling Observer Newsletter, Dave Meltzer revealed some of the points Goldberg made during a recent photo-op. Meltzer also revealed that Bill seemingly commented on CM Punk's release as well.
"Goldberg at a photo op was asked about AEW and he said that you never know, and that he's talked to Tony Khan (which is well known) and said he was less likely to go because 'that douchebag C.M. Punk is gone,' although that sounds like he was more in character than anything," the report stated.
While many fans may deny the idea of Bill still wrestling, it can't be denied that he is still a huge draw. Tony Khan was also asked earlier this year about the possible signing of the WWE Hall of Famer, and he said that he has had talks with him.
---
What Tony Khan said about Goldberg when asked about AEW signing
Earlier this year, during the Double or Nothing media scrum, AEW CEO and President, Tony Khan, was asked whether the former WWE Universal Champion could be seen in his promotion. Here is what he said:
"Yeah, I have. I have talked to Bill (laughs). It wouldn't be that unusual. I've talked to Bill when he's not been under contract at times, and I have a good relationship with Bill. I have had a good conversation with him, but I've had a lot of great conversations with Bill." [H/T: WrestlingINC]
While there is no confirmation of the WWE Hall of Famer going down the AEW route, only time will tell whether fans will see him going All Elite somewhere down the line.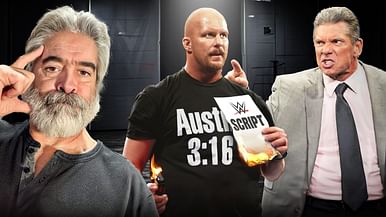 How Stone Cold was born in 2 minutes