Hiring former WWE Champion, letting go of former TNT Champion - 5 Mistakes AEW has made since its inception
Hiring former WWE Champion, letting go of former TNT Champion - 5 Mistakes AEW has made since its inception
AEW has gained a ton of success since its inception back in 2019. In just four years, Tony Khan has managed to position the company as a genuine alternative to WWE.
However, 2022 threatened to expose all of AEW's flaws, characterized by a lack of accountability, direction, and leadership from the owner, management and even some of the top stars of the promotion. Here are the 5 biggest mistakes AEW has made in its short history thus far.
---
#5. Hiring Jeff Hardy
Jeff Hardy's brief AEW career looks to have ended right as it was just getting started. The Charismatic Enigma debuted in the company just over a year ago, only a few months after his latest WWE stint.
It was an encouraging start at first, as Hardy immediately linked up with his older brother Matt and reformed The Hardy Boyz. He even had a respectable run in the Owen Hart Cup Tournament, wrestling in dream matches against Darby Allin.
However, it all came to a screeching halt when Jeff was arrested back in June 2022 for driving without a license and a felony DUI, which threatened to derail his wrestling career.
According to PW Insider, Jeff Hardy will undergo another pre-trial hearing on February 23rd, in Florida. Despite this, the former WWE Champion is still technically signed to AEW. Clearly, it just hasn't worked out for him in Tony Khan's promotion. Instead of signing the veteran for his star power, Tony has had to inherit all of his problems instead.
At 45 years old, Jeff is coming to the end of his wrestling career. It would be in everyone's best interests if both he and AEW were to part ways.
---
#4. Not hiring writers for AEW programming
One of the biggest differences between WWE and AEW is the fact that AEW does not have a team of writers. Talents are given creative freedom to express themselves the way they want to.
While speaking on Wrestling with Freddie, AEW President Tony Khan explained that he doesn't need writers because he works with top talent who have a lot of say in their storylines and promos. For many fans, AEW's lack of writers makes it an appealing product for them.
The drawback, however, is that the shows can come across as disorganized and contrived. Tony Khan's penchant for sticking to long-term storylines, no matter the cost, has caused him to overlook other wrestlers and feuds that have gotten over organically.
It's clear that Tony is overwhelmed with having to juggle not only AEW storylines but now, Ring of Honor as well. It cannot be a one-man show forever. The company could benefit from having a creative or writing team to plot out long-term storylines and programs with Tony spearheading the process.
---
#3. Having wrestlers as EVPs
When All Elite Wrestling first started, Tony Khan was backed by four founding members, Cody Rhodes, The Young Bucks and Kenny Omega, who would become his Executive Vice Presidents (EVPs).
While the quartet has contributed significantly to the company's success, it has also equally been responsible for some of its longstanding issues. Kenny Omega and The Young Bucks were part of the company's biggest controversy, the All Out Brawl Out. Meanwhile, Cody's unhappiness with Tony Khan and his dealings led to him not re-signing with the company as soon as his contract came up.
It's clear that the EVP role didn't wield as much power as it was Tony Khan who truly ran the show. Omega's disastrous management of the women's division and the company's games division has led to problems on both fronts, while Matt and Nick playing favorites have severely hampered FTR's booking in the company. Perhaps they are better off as wrestlers.
---
#2. Not letting CM Punk relinquish the AEW World Championship when he got injured
CM Punk's reign as AEW World Champion started in unfortunate circumstances due to him getting injured, but the company opted not to vacate the title.
Less than a week after he defeated Adam 'Hangman' Page at Double Or Nothing to claim the belt, Punk announced that he would be taking time away due to a legitimate injury.
Rather than vacating the title while he was gone, Tony Khan opted to create an Interim World Championship, allowing Punk the chance to get back to full health. The Straight Edge Superstar offered to vacate the title but Tony Khan rejected the idea. In hindsight, given what transpired afterward, perhaps it wasn't the right decision after all.
The entire Brawl Out drama could have been avoided if Tony had officially put the title on Jon Moxley and let him run as champion instead of circling it back to Punk.
---
#1. Letting go of Cody Rhodes in 2022
Cody Rhodes's run in All Elite Wrestling was mixed to say the least. He took himself out of World Championship contention by saying he would never get another title shot while he was in management if he lost to Chris Jericho at Full Gear 2019. Cody lost after MJF threw in the towel for him and hit Rhodes with a low blow after the match.
Rhodes then found himself disconnected from the audience and even booed relentlessly at times during his promos. The American Nightmare ran down his contract and returned to WWE as a surprise opponent for Seth Rollins at WrestleMania 38.
Cody Rhodes got an incredible reaction upon his return to the sports entertainment giant and became even more popular as the weeks went on. His promos are connected to the WWE Universe and he seems destined to become a champion this weekend. It's clear that All Elite Wrestling's loss is WWE's gain.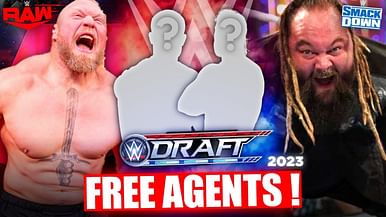 Brock Lesnar and 10 WWE stasr who are FREE AGENTS
See more
More from Sportskeeda