John Cena Sr. has a heartwarming message for his son John Cena (Exclusive)
John Cena Sr. recently sent a heartfelt message to his son, John Cena, wishing him the best whenever he steps inside the squared circle.
It's no secret that The Leader of Cenation is one of the most successful and beloved stars in WWE history. Though he only occasionally competes now due to his thriving career in Hollywood, Cena leaves no stone unturned to prove his loyalty to the company by returning for a match here and there.
The 16-time WWE Champion last competed on the December 30th, 2022, episode of SmackDown, with fans expecting him to return in time for WrestleMania 39.
Speaking to Bill Apter of Sportskeeda Wrestling, John Cena Sr. wished his son nothing but the best for his in-ring future. He urged Cena to give his best and not worry about the outcome.
"Be yourself. Do what you've always done. Be the man you are, get out there, and I know you'll do what you always do 150%. Whatever happens, happens," said Cena Sr. (11:14 - 11:24)
Check out the full video below:
---
Could John Cena show up at WWE Royal Rumble 2023?
Though there's no hint of Cena showing up in the Men's Rumble match at Royal Rumble 2023, his father thinks otherwise. The veteran manager feels the 45-year-old could appear on January 28th to put his WrestleMania plans in motion.
"I would agree with that, and you know why? I follow the product here and there, and I think it's heading in the right direction. Stories are beginning to make an awful lot of sense, and I think this is the beginning and I agree with you that yes, we might see him at the Royal Rumble, and I feel pretty great about WrestleMania," said Cena Sr. (3:06 - 3:26)
It's safe to say that if John Cena does end up showing as a surprise entrant in the Royal Rumble match, it could potentially generate the loudest reaction of the night.
---
Whom do you want The Leader of Cenation to face at WrestleMania 39? Do you think he could show up at the Royal Rumble 2023 as a surprise participant in the Men's Rumble match? Sound off in the comments section below.
---
If any quotes are used from this article, please embed the YouTube video and credit Sportskeeda Wrestling.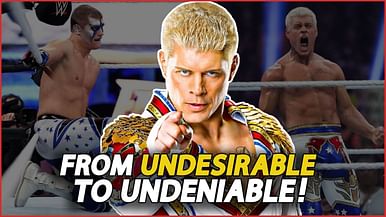 How Cody Rhodes returned to WWE and change pro wrestling forever!
See more
More from Sportskeeda