LA Knight does not want former Mr. Money in the Bank to qualify for this year's WWE event
LA Knight does not want former Mr. Money in the Bank to qualify for this year's WWE event
LA Knight qualified for this year's Money in the Bank match, and this could be the beginning of a substantial push for the 40-year-old WWE Superstar. Having reverted to his current persona late last year, Knight feuded with Bray Wyatt ahead of WrestleMania 39.
The storyline was a success, but the former IMPACT World Champion has not done anything of note since. Now, he is looking forward to winning the contract. However, Knight hopes Baron Corbin does not qualify this week on SmackDown.
The Lone Wolf will contend for a spot in the annual ladder match against The Brawling Brutes' Butch. Calling Corbin the tallest guy of the bunch, LA Knight stated on the latest edition of WWE's The Bump that he hopes the former King of the Ring winner does not qualify for the upcoming match:
"At the end of the day, what, I got to reach up there and grab the case, right? I mean, I guess the tallest guy in the bunch is Corbin, so I guess maybe you don't want the tallest guy in there. He's got a bit of an advantage." [48:06-48:16]
LA Knight further asserted that there is only one way the Men's ladder match can end: with him becoming Mr. Money in the Bank.
LA Knight has spent a lot of time in WWE without any truly memorable storylines on the main roster, aside from his feud with Bray Wyatt. However, a former World Heavyweight Champion believes Knight will hold the Big Gold Belt soon enough.
---
LA Knight teases a future showdown against current WWE World Heavyweight Champion
Despite being on the blue brand, LA Knight did hint at going after Seth Rollins if he manages to win the briefcase, which guarantees a title opportunity on either brand.
The SmackDown star brought up the impact of ending Roman Reigns' undefeated streak, which has now crossed 1,000 days. However, LA Knight is seemingly keener on winning the new title:
"That would have to be top aim," Knight spoke about ending Roman Reigns' streak. "But, I got to be honest with you. That World Heavyweight Championship is a pretty little piece of gold now, ain't it?" [50:02-50:10]
You can read more about an ex-WWE writer discussing a potential Seth Rollins vs. LA Knight feud down the line while stating that the new belt would look "sexy" on the SmackDown star here.
---
When using quotes from this article, please credit the original source and give a H/T to Sportskeeda Wrestling for the transcription.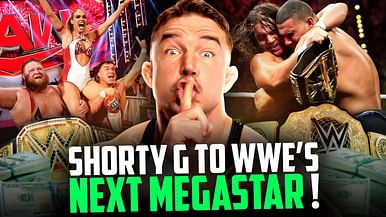 Why Chad Gable could be the next WWE mega star
See more
More from Sportskeeda