Final list of players auctioned for IBL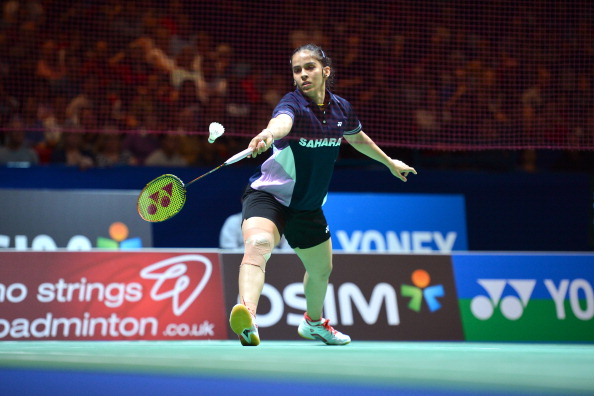 Here is the final list of players sold in the IBL auction today. World No.1 Lee Chong Wei, was bought by Mumbai Masters for a stunning $135,000, followed by India's very own World No.3, Saina Nehwal, who went to Hyderabad Hot Shots for $120,000, $70,000 above her base price.
The IBL, inspired by cricket's popular Indian Premier League, is to be held from August 14-31 and features six city-based franchises sold to business houses and individuals. But the million dollar event has lost much of its sheen with the Chinese shuttlers backing out.
The organisers of the IBL, however claim that there is a very good reason for this. In an interview one of the organisers stated, "The Chinese will not be coming this year mainly because the IBL clashes with their national games."
                               Hyderabad Hotshots
 Nationality
 Player
 Base Price
 Player Bought
 Indian
 Saina Nehwal
 $50,000
 $120,000
 Intl
 Taufik Hidayat
 $15,000
 $15,000
 Indian
 Ajay Jayaram
 $25,000
 $25,000
 Intl
 V Shem Goh
 $10,000
 $10,000
 Indian
 Tarun Kona
 $15,000
 $28,000
 Indian
 Pradnya Gadre
 $10,000
 $46,000
 Intl
 Khim Wah Lim
 $10,000
 $10,000
 Intl
 Tanongsak
 $15,000
 $15,000
 Indian
 Kanthi Visalakshi P.
 $3,000
 $3,000
 Indian
 Shubhankar Dey
 $3,000
 $3,000
                                     Delhi Smashers
 Nationality
 Player
 Base Price
 Player Bought
 Indian
 Jwala Gutta
 $25,000
 $31,000
 Intl
 Wong Wing Ki
 $20,000
 $20,000
 Indian
 H.S. Prannoy
 $15,000
 $16,000
 Indian
 Sai Praneeth
 $15,000
 $40,000
 Indian
 Arundhati Panthawane
 $15,000
 $15,000
 Intl
 Boon Hoeng tan
 $25,000
 $50,000
 Intl
 Kien Keat Koo
$25,000
 $50,000
 Indian
 V. Diju
 $15,000
 $30,000
 Intl
 Nichaon Jindapon
 $15,000
 $15,000
 Indian
 Prajakta Sawant
 $7,000
 $7,000
                                       Mumbai Masters
 Nationality
 Player
 Base Price
 Player Bought
 Intl
 Lee Chong Wei
 $50,000
 $135,000
 Intl
 Marc Zweibler
 $15,000
 $15,000
 Intl
 Tine Baun
 $30,000
 $30,000
 India
 Pranav Jerry Chopra
 $15,000
 $36,000
 India
 Manu Attri
 $10,000
 $10,000
 India
 Siki Reddy
 $10,000
 $11,000
 India
 PC Thulasi
 $10,000
 $10,000
 Intl
 Vladimir Ivanov
 $15,000
 $15,000
 India
 Rasika Raje
 $3,000
 $3,000
India
Sumeet Reddy
$7000
$7,500
                                       Pune Pistons
 Nationality
 Player
 Base Price
 Player Bought
 Indian
 Ashwini Ponnappa
 $25,000
 $25,000
 Intl
 Nyugen tien Minh
 $25,000
 $44,000
 Indian
 Saurabh Verma
 $20,000
 $20,000
 Indian
 Anup Sridhar
 $5,000
 $6,000
 Intl
 Juliane Schenk
 $50,000
 $90,000
 Intl
 Joachiam Fischer Nielsen
 $35,000
 $35,000
 Indian
 Sanave Thomas
 $5,000
 $5,000
 Indian
 Arun Vishnu
 $10,000
 $26,000
 Intl
 Wee Kiong Tan
 $15,000
 $15,000
 Indian
 Rupesh Kumar
 $5,000
 $5,000
                                 Lucknow Warriors
 Nationality
 Player
 Base Price
 Player Bought
 Indian
 PV Sindhu
 $50,000
 $80,000
 Intl
 Feng Wei Chong
 $25,000
 $25,000
 Indian
 Guru Sai Dutt
 $25,000
 $40,000
 Indian
 K Srikanth
 $15,000
 $34,000
 Intl
 Sapsiree
 $15,000
 $15,000
 Indian
 Ruthvika Shivani
 $3000
 $3,000
 Intl
 Markis Kido
 $15,500
 $15,500
 Intl
 Mathias Boe
 $10,000
 $10,000
 Indian
 K Maneesha
 $4,000
 $26,000
 Indian
 Nandagopal
 $10,000
 $10,000
                                      Banga Beats
 Nationality
 Player
 Base Price 
Player Bought
 Indian
 P Kashyap
 $50,000
 $75,000
 Intl
 Hu Yun
 $50,000
 $50,000
 Intl
 Tai Tzu Ying
 $25,000
 $25,000
 Intl
 Carolina Marin
 $10,000
 $10,000
 Intl
 Carsten Mogensen
 $50000
 $50,000
 Indian
 Akshay Dewalkar
 $15,000
 $36,000
 Indian
 Aparna Balan
 $10,000
 $12,000
 Indian
 Aditya Prakash
 $5000
 $5,000
 Indian
 Arvind Bhat
 $7,500
 $7,500
 Indian
 J Meghana
 $4,000
 $4,000