Skycity New Zealand Badminton Open: India's Arvind Bhat upsets 6th seed Tedjono to storm into quarterfinals
932 //
12 Apr 2013, 16:38 IST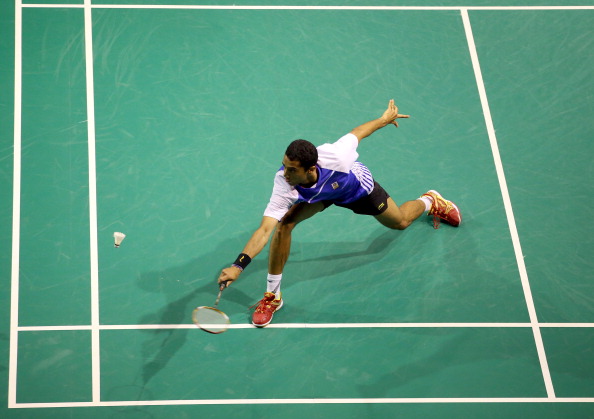 India's Arvind Bhat scripted a major upset when he shocked sixth seed Andre Kurniawan Tedjono of Indonesia in straight games 21-19, 21-10 to sail into the quarterfinals of the Skycity New Zealand Badminton Open being played at the North Shore Events Centre in Auckland on Friday.
The 98th ranked India, who has done little of note in the international circuit this year, barring a quarterfinal finish at the Iran Fajr International Challenge tournament held in Tehran, exacted sweet revenge over the world number 46th Indonesian, who got the better of him earlier this year in straight games 21-6, 21-16 in the opening round of the Bitburger Badminton Open Grand Prix Gold tournament.
In fact, Tedjono enjoyed a 2-0 career head-to-head record against Arvind going into Friday's match.
Arvind, seeded fourteenth in the tournament, made a mockery of the yawning gap in the rankings of the two players. The Indian, who once reached a career-high ranking of 22 few years back, hit the groove from the outset.
He was more dominating in the rallies, frustrating his much fancied opponent to no end. Arvind was also robust at the net, collecting winners with increasing regularity.
Tedjono gradually hit the straps and matched Arvind in all departments of the game, but the latter played the crucial points well to pocket the opening game at 21-19.
The opening game loss took the sting out of the Indonesian's game. Unforced errors became a regular affair for Tedjono even as Arvind looked to consolidate on his first game win.
The onus was on the Indonesian to produce something out of the ordinary, but he came unstuck against the strong court coverage of Arvind.
The Indian continue to pile on the pressure, winning five points on the trot to inch closer to a memorable win. Arvind administered the final rites on Tedjono winning the second game at 21-10 in a contest that lasted 41 minutes.
He now runs into second seed Jen Hao Hsu of Taipei in the last eight stage.
Earlier, Ajay Jayaram kept the Indian flag flying making rallying splendidly from a game down to to beat Korea's Ji Hoon Hong to march into the men's singles quarterfinals.
The third seeded shuttler – the highest seeded Indian in the tournament – vanquished the 106th ranked Korean 14-21, 28-26, 21-13 in a contest that lasted 69 minutes.
Ajay next runs into Chinese qualifier Xue Song in the last eight stage. Ajay has never played against the 216th ranked opponent before.