A few hours after PV Sindhu's pre-quarterfinal victory over Denmark's Mia Blichfeldt on Thursday morning, Akane Yamaguchi became the focus of badminton fans across the country.
The 24-year-old Japanese will be Sindhu's quarterfinal challenger on Friday afternoon. The World No. 5, Yamaguchi, booked her spot in the last eight by getting past Kim Ga-eun of South Korea 21-17, 21-18.
Both World No. 7 Sindhu and Yamaguchi have carved out straight-games victories in their three matches so far at the Tokyo Olympics.
They are traditional rivals on the international circuit, having faced each other on seventeen occasions so far. Reigning world champion Sindhu has a 11-7 head-to-head record against Yamaguchi.
The quarterfinal promises to be an exciting clash as both have been in good form and are capable of beating anyone on their day.
Strengths of Yamaguchi
1. A great retriever
Yamaguchi is a runner and an excellent retriever. She has used these skills to trouble Sindhu in the past. The Indian has to be patient as well as at her aggressive best to counter her opponent's on-the-court movement.
Yamaguchi's composure and stubborn persistence are key factors. The former World No. 1 often waits for her opponents to run out of ideas and then attack. She has great agility and strength to move and bounce. Her continuous knack for retrieving and thoughtful placements keeps the opponents on the move and tests their endurance.
2. Ability to clear every shuttle
Yamaguchi has a great ability to clear shuttles to the baseline no matter how low she takes them. This allows her to retain her position on court. From the back court, she can produce excellent deceptive drops, hard slices and tosses off the same action. Her counter-punching style could prove effective against Sindhu.
3. Home advantage
Although there will be no crowd support in the stadium, Yamaguchi will certainly enjoy home advantage. Given her familiarity with the Musashino Forest Sports Plaza, the venue of the tournament, she will be able to adapt quickly to the conditions and trouble Sindhu early on. Yamaguchi also has an attacking game. She has a respectable smash and a defense that may leak points initially when Sindhu powers her line-hugging cross-court and down-the-line smashes.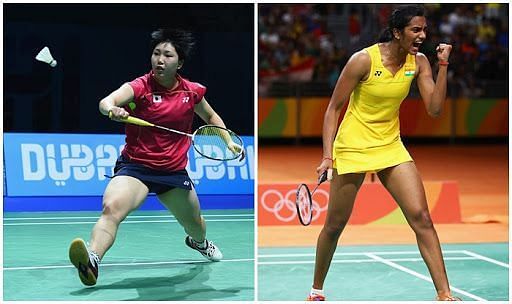 Weaknesses of Yamaguchi
1. Height and reach disadvantage
Yamaguchi is just 5'1" tall. That can be a big disadvantage against a tall player like Sindhu, who is almost six-feet tall. If Sindhu manages to peg her opponent to one corner and use her reach to maneuver the shuttle around, the Japanese will be forced to stretch her legs a tad more than she would like.
2. Sindhu has the psychological advantage
Sindhu's better head-to-head record could weigh on the Japanese's mind. Sindhu won their last encounter at the All England Open quarterfinal in March this year. Considering her not-so-impressive track record against Sindhu, Yamaguchi might find it difficult to turn the tables.
3. Poor flat game
Yamaguchi will likely try to hamper Sindhu's movement with an attacking toss and a mixture of hard slices and drops. Since Yamaguchi does not like to play a flat game, Sindhu might force exactly that on her to draw the errors.