Seven-time Mr. Olympia champion Arnold Schwarzenegger has been a great role model for youths across the globe over the past five decades. However, over the years, the 75-year-old has faced backlash for his words and actions.
The most recent backlash came on Instagram, where he shared a set of posts promoting his 'Path of hate' message video. Arnie's most recent post faced severe backlash from fans as one of them wrote,
"Just remember, accountability is discrimination, and responsibility is oppression in today's world."

---
Fans react to Arnold Schwarzenegger's recent views on the 'path of hate'
Arnold shared a post in which he was seen giving advice. The image had a long text that read,
"Some advice: if your response to a video about fighting prejudice is "What about (the group you don't like)?", I want you to try this exercise, not just today but ever day."
He further wrote:
"Anytime you start "What about...", stop yourself and change the question: "What about me?" What have you done to improve yourself or your community? You can't control anyone else. You can control yourself, and discovering that power is going to make your life much, much better."
Fans weren't too overwhelmed by the Terminator Stars' remarks as they showed off their response in the comment section,
A set of fans brought up Arnie's earlier remarks on freedom of speech.
"Screw your freedom" Arnold to people who didn't want to take part in a trial experiment. But yeah cool story"
"Try screwing your freedoms"
"I love that people who are still trying to cancel Arnie, are still following him and commenting and creating more engagement on his posts."
"Wondering if he asked himself this before he knocked up his housekeeper"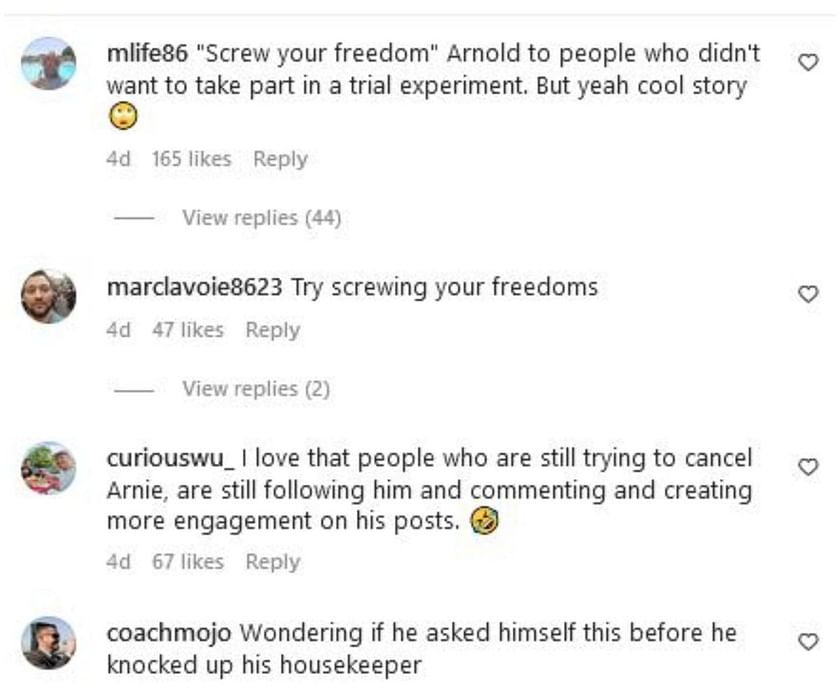 Here is another set of comments that was an example of outraged fans,
"Don't worry about those groups that do absolutely nothing positive that I will blindly support ask what YOU do"
"'What about the people who say I am the worst person in the world because of my skin color?' Yeah, didn't work..."
"Real"
"Our path of hate towards people who choose not to be vaccinated? Knowing what we know now about the ineffective, so called vaccines, people have been forced from their jobs, called out with hate speech and even still separated from their families due to travel mandates! When will this end?"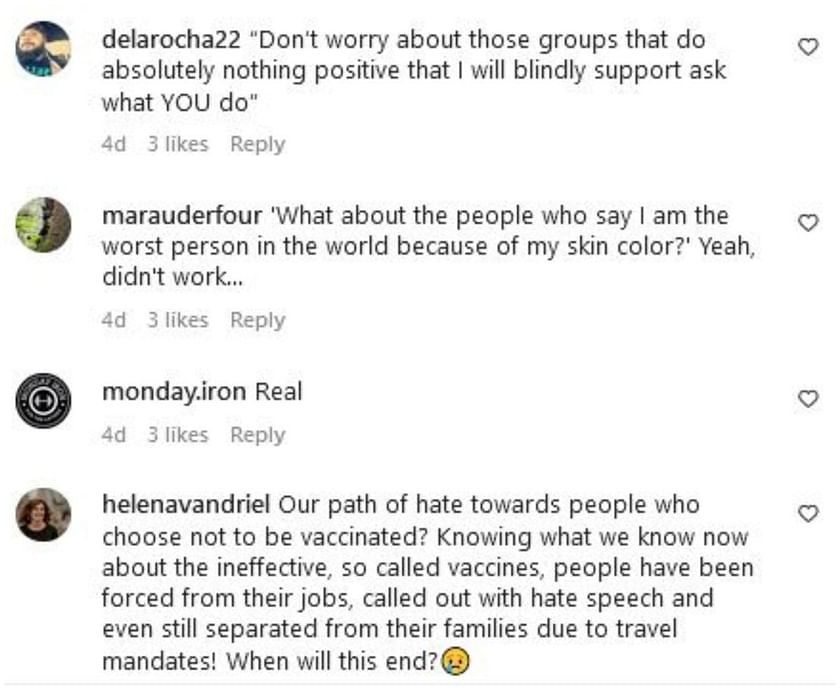 However, Arnold did have some support from his fans as this set of comments is a collection of good comments.
"Don't forget to "crush your enemies, see them driven before you, and hear the lamentation of the women.""
"A man's got to do what a man's got to do"
"Yes and Amen"
"Good message but you really should take your own advice especially if we look at your attitude towards pwiple who chose not to get the Vax. Still a good message."
One fan even compared Sylvester Stallone to Arnold,
"Stallone > Schwarzenegger"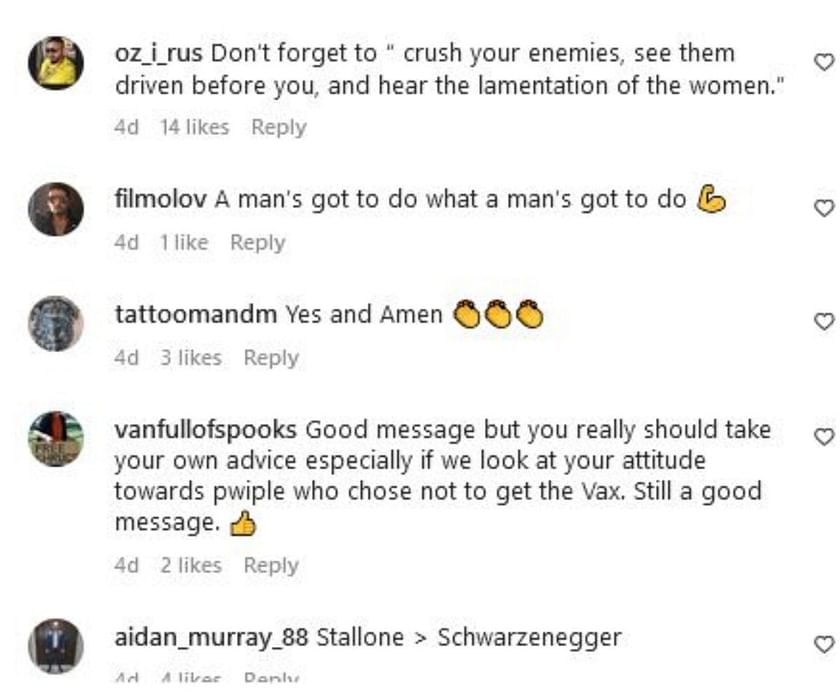 Fans were disappointed in Arnold and these comments were evidence of it.
"Should have used your own advice when talking about the vaxx..."
"Whataboutism is most of social media."
"Such a wise person always will look up to you as a role model"
"Screw your freedom- Arnold Schwarzenegger Sucks we used to look up to you"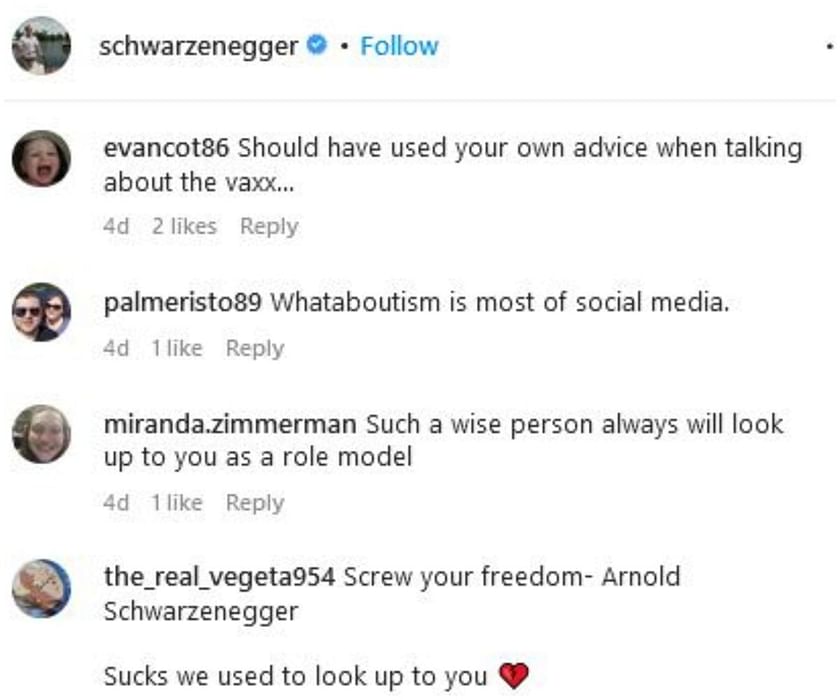 A 12-minute film that The Austrian Oak recently posted on YouTube had a warning for those who mistakenly chose the road of hatred. And it seems the video is not being taken well by the fans.