Bronny James, the son of the legendary LeBron James, and his prom date, Instagram influencer, Peyton Gelfuso, have been the subjects of social media trolling after they attended prom together.
There had been rumors before the prom date of the two being in a relationship. They are both students of Sierra Canyon School and have been seen together on dates and attending basketball games together.
Stardom and loss of privacy for Bronny
Being the son of the world-famous LeBron James and a promising heir to his basketball legacy means that Bronny's private life sometimes gets in the spotlight and is left to public scrutiny on platforms like social media.
It was somehow unsurprising, therefore, when his date for the high school prom night, Peyton Gelfuso, became the subject of bullish social media trolls.
However, why has she become a victim of that?
Why is Gelfuso being trolled?
It is not inconceivable that people would be jealous of someone like Gelfuso for being the choice of McDonald's All-American basketball player Bronny James.
Many would queue up to take the opportunity of being James' prom date. But as they don't get such an opportunity, they may troll the lucky one, in this case, Gelfuso, out of spite.
Another possible reason for the trolling is racism. Gelfuso is white, while James is Black. Moreso, James is seen as a model of what every young Black man can aspire to be. Many racists would, therefore, be uncomfortable seeing the two together. This explains the amount of sheer hatred thrown at Gelfuso simply because of her skin color.
Who is Peyton Gelfuso?
Peyton Gelfuso is an Instagram influencer who creates content around traveling by posting videos and picture updates on her Instagram account. Doing this, she has managed to grow a followership of over 46.6 thousand on Instagram.
This is in addition to being a multisport athlete who played football, beach volleyball and tennis in high school. There are many who despise her for no other justifiable reason than this, and they took the opportunity to troll her.
Both Bronny and Peyton are still teenagers and deserve the right to their privacy. Moreso, they are free to date and associate with whomever they like.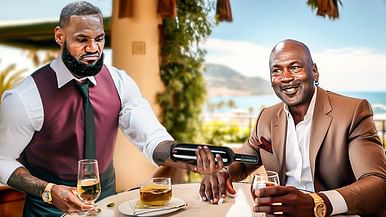 How is Michael Jordan officially richer than NBA's 10 richest players?!
Edited by Joseph Schiefelbein