#5. Dale Steyn against India, South Africa vs India, Nagpur 2010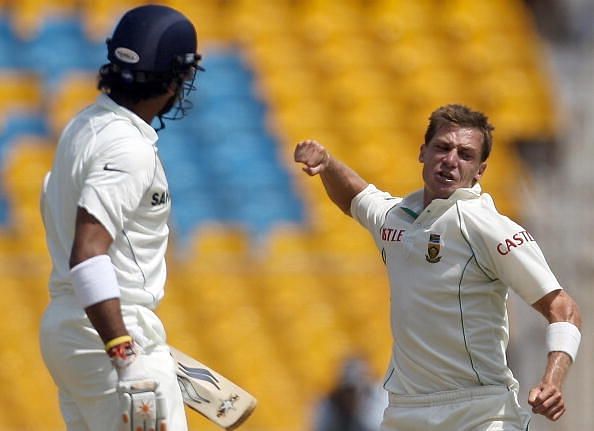 Dale Steyn has a bowling strike rate of 41.4 in Test Cricket. It is easily the best for anyone who has played more than 25 test matches. That he has managed to have that strike rate after taking 417 wickets in 85 test matches, is the reason why pundits across the world keep him in the same bracket as the fearsome pacers of the pre 2000 era.
But what sets him apart from other great fast bowlers of this era? What sets him apart from someone like James Anderson?
The answer to that is rather simple. More often than not, Dale Steyn takes the pitch out of action. While James Anderson generally requires some swing and purchase in the wicket, Dale Steyn doesn't need any such favors. His strike rate is less than 40 in Sri Lanka, India, Bangladesh and Pakistan, countries where the pitches are not traditionally suited for pace bowlers. His performance in Nagpur against India in 2010 was one of the greatest fast bowling spectacles of all time.
When South Africa came touring in 2010, they had one of the best fast bowling attacks the modern game has seen. They were thus provided with pitches that would negate the advantage and would give India some breathing space.
The pitch in the first test in Nagpur was flatter than a highway. There was absolutely no conventional swing in offer and there was no bounce either. Surely Steyn couldn't create in roads here, could he?
In what was one of the most majestic spells of fast bowling, Dale Steyn took 7-51 to help skittle India for 233 in the first innings. South Africa had piled on 558 runs on the same pitch. That Steyn could extract conventional swing and reverse swing in the same dead pitch is a tribute to his enviable repertoire of skills and abilities.
He came back in the 2nd innings to prize out the valuable wicket of Virender Sehwag, who was the only one to provide resistance to Steyn's deadly accurate bowling in the first innings. He took 10 for the match and helped South Africa register what was probably their finest victory in India. No other bowler took more than 4 wickets in the entire match.
The performance enhanced Steyn's reputation of being arguably the most complete fast bowler the modern era has seen.
Edited by Anuradha Santhanam